ACDIS Outpatient PRO
IT'S NEW! IT'S INTERACTIVE! IT'S CUSTOMIZABLE!
IT'S THE ALL NEW ACDIS Outpatient PRO!
Protect your agency from mistakes that could lead to claim denials and revenue loss with ACDIS Outpatient PRO – the comprehensive online tool for all of your CDI needs.
Easily access all the query, coding and documentation resources you love and need every day – anywhere, any time!
This new, fully customizable, easy to navigate online portal can be accessed on any device – pull it up on your phone in a meeting to make sure you have the right code, access it on the go while talking to a physician, or from your office! With the ability to add your own personal notes directly into conditions for easy reference – this all-encompassing online tool will become your favorite reference.
Want to know more? View a brief 4 minute demo now!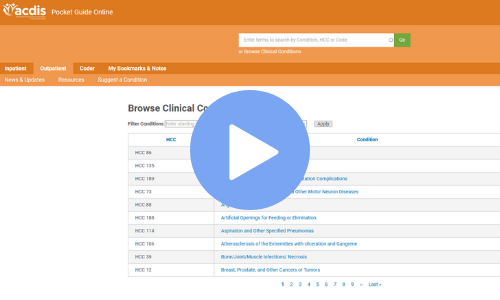 NOTE: If you're interested in purchasing the online version for multiple users within your organization and/or would like to see a demo of the product, please contact Sales at 615-724-7200 or email sales@hcpro.com.