2019 Revenue Integrity Symposium
---
October 15-16, 2019 | Orlando, FL
The Revenue Integrity Symposium brings together training on revenue integrity, Medicare billing and compliance, patient status, case management, coding, and clinical documentation improvement (CDI), helping attendees ensure compliance and accurate billing and reimbursement across the revenue cycle. Unlike any other, this conference offers a wide range of exciting sessions on critical revenue integrity topics and the chance to learn from and network with trusted industry experts and revenue cycle professionals of all varieties.
Our expert speakers will cover critical topics essential to revenue integrity, revenue integrity, Medicare compliance, and the revenue cycle in acute care and long-term care settings.
Benefits from the 2019 Revenue Integrity Symposium:
Learn strategies for designing a revenue integrity program, defining leadership, and setting and meeting revenue integrity goals
Gauge the financial and operational impact of the 2020 OPPS proposed rule
Discover best practices for maintaining an up-to-date and compliant charge description master and learn to identify charge capture strategies for typical ancillary services
Get the latest information on external auditors and learn new strategies for dealing with claim denials and appeals
Develop strategies for enhancing your denials management program, using analytics to strengthen internal audits and defend against external audits
Gain insight into billing and coding hot topics that may impact your facility's financial performance, including injections and infusions, claim edits, and patient status
Return to your facility armed with the tools to enhance revenue integrity and develop strategies for accurately documenting, coding, and billing patient encounters and stays  
Discuss strategies for executing the new PDPM case-mix payment model
Analyze the role of diagnosis coding with the MDS in the post-acute care setting
2019 Highlights:
Highlights of the 2020 OPPS proposed rule
Properly addressing National Correct Coding Initiative edits and Medically Unlikely Edits
Revenue integrity program design and management
Impact of value-based reimbursement models on revenue
Reimbursement, documentation, and coding strategies for laboratory tests and drug administration
Current payer audit targets and strategies to protect revenue
Best practices for reducing payer denials using targeted data analytics
Understanding the impact of patient status and navigating payer regulations
The impact of the new PDPM case-mix payment model on billing and reimbursement
The link between ICD-10 coding and the MDS
Photography Disclaimer
From time to time, NAHRI or its contractors record, photograph, and/or stream the various aspects and activities of the Revenue Integrity Symposium for both archival and promotional purposes. By attending the conference, attendees give NAHRI and its contractors permission to use any attendee's voice and image in any such archival or promotional recording, photograph, or streaming activity without any compensation or credit to the attendee.
---

Thank you for your interest in the Revenue Integrity Symposium. Please continue to visit us for updates. We will be updating this page frequently as details are finalized.
Please note that the program materials will be available via download and the conference app only. A download link will be provided prior to the event, but a printed book of the presentations will not be available on-site.
Pre-Conference and Post-Conferences
---
Medicare Boot Camp® — Utilization Review
Pre-Conference: October 13–14, 2019 | Renaissance Orlando
Medicare Boot Camp®—Utilization Review Version is an intensive two-day course focusing on the Medicare regulatory requirements for patient status and the role of the utilization review (UR) committee. For more information, click here.
---
Medicare Boot Camp® — Audits, Appeals, and Denials Version
Post-Conference: October 17–18, 2019 | Renaissance Orlando
Get expert guidance on preventing denials and focusing appeals efforts for success. The evolution of reimbursement models and uncertainty regarding healthcare laws mean that to keep the doors open, organizations can't afford write off appealable denials. Organizations need sound, practical information on overturning denials. Medicare Boot Camp®—Audits, Appeals, and Denials Version is your key to proven strategies for success and will answer all of your questions on denials management and appeals processes. For more information, click here.
---
Medicare Boot Camp® — Provider-Based Departments Version
Post-Conference: October 17–18, 2019 | Renaissance Orlando
The Medicare Boot Camp—Provider-Based Departments Version provides education on attestations, on- and off-campus determinations, enrollment, billing, and reimbursement. This Boot Camp will provide brand new insight for understanding hospital outpatient department billing and reimbursement in an ever-changing regulatory landscape. For more information, click here.
---

Thank you for your interest in the Revenue Integrity Symposium. Please continue to visit us for updates. We will be updating this page frequently as details are finalized.
Please note that the program materials will be available via download and the conference app only. A download link will be provided prior to the event, but a printed book of the presentations will not be available on-site.
Agenda
---
Stay Tuned for the 2019 Agenda!
Keynote Speaker
---
Denise Ryan
Raleigh, North Carolina based professional speaker Denise Ryan is a motivational pyromaniac. Her infectious energy and enthusiasm will set a room ablaze.
A magna cum laude graduate of the University of South Carolina with a master's degree in business, what she really specializes in is lighting fires.
After earning millions for clients in the corporate world, Denise realized she had a talent for firing people up. She parlayed this gift into FireStar, a company specializing in enthusiasm. Eleven years later, Denise motivates and energizes large corporations and small businesses across America at conferences, board retreats and annual meetings. Her no nonsense, direct delivery coupled with her astute business savvy and irreverent wit leave audiences not only laughing, but with actionable tips.
Not your typical "motivational speaker," Denise is genuine and real. But also highly skilled – she holds the title of Certified Speaking Professional (CSP), a designation awarded to fewer than 10 percent of professional speakers. Denise is an author, keynote speaker and most notably, a fire starter extraordinaire. FireStar's unique programs are relevant, uplifting and informative. Denise's trademark interactive programs address myriad workplace issues such as dealing with change, getting along with others, staying motivated and the secrets of successful selling. She also offers customized training sessions. Denise's infectious enthusiasm motivates the unmotivated and challenges the challenged. Consider yourself warned: FireStar programs are five-alarm scorchers.

Your Presenters
---
Jay Ahlmer, CFA, is Senior Vice President of Strategic Accounts at Versalus Health. He has over 15 years in healthcare consulting, mergers and acquisitions, revenue cycle, and analytics. In his current role, Ahlmer collaborates with hospital management teams to improve operational and financial performance through data analytics and process optimization. Before joining Versalus, Ahlmer was a Senior Associate at TripleTree where he managed various sell-side merger and acquisition transactions within the healthcare market. While at TripleTree, he assisted executives in strategic planning, market sizing and analysis, and financial projections. Prior to TripleTree, Ahlmer was Director of Finance at Executive Health Resources where he supported multiple private equity recaps, a business divestiture, and ultimately, the sale of the company to a strategic acquirer through analytical support for marketing sizing/penetration, growth sustainability, operations management, and projected growth. Ahlmer has his bachelor's degree from the Wharton School at the University of Pennsylvania. He is also a CFA Charterholder.
 
 
Dapo Akanbi, MBA, is implementation manager, net patient revenue with Craneware. He holds extensive experience in the healthcare pricing arena. Prior to joining Craneware, he worked as a pricing consultant guiding customers through numerous pricing engagements and contributing to the enhancement of other market net revenue solutions. He earned his undergraduate and graduate degrees in Business Administration from Georgia State University.
 
Kimberly Anderwood Hoy Baker, JD, CPC, is the director of Medicare and compliance for HCPro. She is a lead regulatory specialist and lead instructor for HCPro's Medicare Boot Camp®—Hospital Version and Medicare Boot Camp®—Utilization Review Version. She is also an instructor for HCPro's Medicare Boot Camp®—Critical Access Hospital Version. Baker is a former hospital compliance officer and in-house legal counsel, and has 10 years of experience teaching, speaking, and writing about Medicare coverage, payment and coding regulations and requirements.
 
 
Jim Carlson is currently the VP of Charge Capture services for Revint Solutions.  He has over 25 years of experience in management consulting, technology, and start-up company operations.   His recent focus has been building the leading revenue integrity charge capture solution with Acustream, now Revint Solutions.   He specializes in optimizing value within revenue cycle to help clients recover revenue, create savings through root cause analysis, and process improvements across interdepartmental workflows.
 
 
John Carter is senior vice president of clearinghouse operations at ABILITY Network's Minneapolis, Minnesota location, a leading healthcare IT company and an Inovalon Company. In his role, John directs the day-to-day transaction operations supporting over 45,000 healthcare providers of all sizes, across the continuum of care.
 
 
Becky W. Cook, CPA, MHA, isa former CFO for a large multispecialty group who was responsible for revenue cycle outcomes.  Since changing careers, she has consulted on using analytics to improve performance of revenue cycle processes.
 
 
Stefanie Corbett, DHA, is HCPro's post-acute regulatory specialist, as well as a health policy educator, consultant, researcher, and author. She has a special affinity for seniors and enjoys leveraging her experience, education, and passion to healthcare professionals for the advancement of healthcare services rendered to the older adult population. Her professional experience also includes owning and operating a private healthcare consulting firm, Corbett Healthcare Solutions, LLC, in South Carolina, and serving as the Deputy Director of Health Regulation for the state of South Carolina, leading diverse healthcare organizations. She was licensed as a nursing home administrator in several states and has also worked as an Assistant Professor of Healthcare Administration.
 
 
 
Dawn Crump, CHC, SSBB, MA, is the Senior Director, Revenue Cycle and Denial Managment Solutions, with Intersect Healthcare Crump has worked within the hospital environment within quality, compliance, or revenue integrity for the last 20 years. In addition, she managed the government audit and denial team and internal coding compliance for a large health system. Recently, she have worked with hospital providers nationwide to assist them in managing and mitigating their revenue risk using denial systems and analytics.
 
 

Kim Cusson, CCS, CPC, is the healthcare risk CBA manager in Crowe Horwath's healthcare division.Cusson has more than 30 years of healthcare experience including more than 20 years of experience in auditing, hospital postacute care consulting, and physician coding and billing. She has also held positions as billing director, healthcare compliance manager, and outpatient coding manager. Cusson has served as board member of the local professional association.

 

 
 
Rose T. Dunn, MBA, RHIA, CPA, CHPS, FACHE, FHFMA, is a past AHIMA president and recipient of AHIMA's 1997 Distinguished Member and 2008 Legacy Awards.  Dunn is chief operating officer of St. Louis-based First Class Solutions, Inc., a national health information management consulting firm providing coding compliance, SNF, and HIM operational consulting services. She is a prolific author of articles and texts and has spoken on a variety of health information management and compliance related subjects. Dunn is the author of the Revenue Integrity Manager's Handbook published by NAHRI.  She has held faculty appointments with St. Louis University, Stephens College, and the University of Minnesota. Her firm assists healthcare providers and organizations with their HIM and Coding operational concerns, coding and coding compliance requirements, HIPAA privacy and security readiness, and IRB activities. Dunn is a past president of AHIMA and chair of the AHIMA Foundation.  In 2011, she served as the Interim CEO of AHIMA. In addition to AHIMA, she is active with HFMA, AICPA, and ACHE.
 
 
Scott Everitt, MBA, has worked for more than 20 years in healthcare, holding key leadership roles in finance, clinical operations, IT, and HR. He is currently the vice president of analytic solutions with Practical Data Solutions (PDS) where he assists clients with transforming their data into useful information and creating strategic solutions for performance improvement. Prior to his role with PDS, he held key leadership roles with the University of Utah Medical Group and Intermountain Healthcare in Utah.
 
 
Karen Giacomo, BA, CPC, CHA, has 29 years of experience in various aspects revenue cycle with a primary focus in revenue integrity, charge master and charge capture/reconciliation. Giacomo is currently the revenue assurance manager for the Cleveland Clinic and focuses on missed charge opportunities. Giacomo has performed revenue integrity audits at various healthcare systems that she has worked for, from first patient contact through to bill drop with a focus on leaning processes, a full charge master review, a charge accuracy audit, and the roll out of charge reconciliation. Giacomo has also been responsible for the build and/or maintenance of IT systems for scheduling, registration, and payer contracts. Giacomo reviews and disperse CMS and payer information to the RCM department. She has managed various teams within the revenue cycle, and she has assisted with the CDM build and charge reconciliation implementation in EPIC for Cleveland Clinic Akron General.
 
 
Sarah L. Goodman, MBA, CHCAF, COC, CCP, FCS, is president/CEO and principal consultant for SLG, Inc., in Raleigh, North Carolina. She is a nationally known speaker and author on the charge description master (CDM), outpatient facility coding, and billing compliance, and has more than 30 years' experience in the healthcare industry. Goodman has been actively involved and held leadership roles in a number of professional organizations on the local, state, and national levels, including the National Association for Healthcare Revenue Integrity (NAHRI). Goodman serves as an advisory board member for NAHRI.
 
 
Marc Hartstein, MA, came to Health Policy Alternatives (HPA) in Washington D.C. after 26 years with the Centers for Medicare and Medicaid Services (CMS). Hartstein held several management and staff positions during his time at CMS, most recently as the director of the Hospital and Ambulatory Policy Group. At CMS, Hartstein was central to the development of the Medicare Severity DRGs, the 2-midnight rule, Medicare policy for off-campus hospital outpatient departments, the misvalued code initiative, and regulations to implement Medicare's new clinical laboratory fee schedule among other policies. Hartstein's experience not only gives him detailed knowledge of the workings of the executive branch of government, he also has worked extensively with the legislative branch. He has assisted in the drafting of legislation, working with the Congressional Committees that have subject matter jurisdiction over Medicare. Hartstein has a master's degree in public policy from the University of Minnesota's Hubert H. Humphrey Institute of Public Affairs and a bachelor's degree in political science and economics from the University of Vermont.
 
 
Reginald M. Hislop III, PhD, is managing partner and CEO of H2 Healthcare, LLC, with locations in Kansas, Wisconsin, Illinois, and Nevada. Hislop has 30+ years of executive experience in the development, operations, and financing of all aspects of healthcare, with particular experience in postacute care. In addition to his work at H2, he serves as a consultant on health policy and reimbursement for the New York investment banking firm of DeMatteo Monness, provides policy and reimbursement guidance to the Transitional Healthcare Consortium and for clients of the Gerson Lehrman Group, and is a consulting member of the 10eqs knowledge network. Hislop holds a Bachelor of Science in Business Administration with a major in finance, a Master of Arts in Applied Mathematics and Quantitative Sciences, and a Doctor of Philosophy in Macro‐Economics.
 
 
Ronald L. Hirsch, MD, FACP, CHCQM, is vice president of R1 RCM in Chicago. He is a general internist and HIV specialist. Dr. Hirsch was the medical director of case management at Sherman Hospital in Elgin, Illinois. He is certified in healthcare quality and management by the American Board of Quality Assurance and Utilization Review Physicians. In addition, he is a member of the American Case Management Association, a member of the American College of Physician Advisors, and a fellow of the American College of Physicians. Hirsch serves as an advisory board member for the National Association of Healthcare Revenue Integrity (NAHRI).
 
 
 
Judith L. Kares, JD, is an expert in Medicare rules and regulations and is an instructor for HCPro's Medicare Boot Camp-Hospital Version®. She spent a number of years in private law practice, representing hospitals and other health care clients, and then as in-house legal counsel prior to beginning her current legal/consulting practice. She is also an adjunct faculty member at the University of Phoenix, where she teaches courses in business and health care law and ethics.
 
 
Alicia Kutzer Esq., LL.M., MHA, is an adjunct instructor for HCPro's Medicare Boot Camp — Audits, Appeals, and Denials Version, Medicare Boot Camp – Hospital Version, Medicare Boot Camp – Utilization Review Version, and Medicare Boot Camp – Critical Access Hospital Version. Kutzer is a licensed attorney in the state of Pennsylvania and is a managing partner of Kutzer Law Firm, LLC, located in the Wilkes-Barre/Scranton area and founded in 2011. She served as an Administrative Law Judge in more than 1,000 Administrative Fair Hearings. Prior to that, Kutzer was a post-adjudication appeals officer, appeals officer, and subject matter expert for MAXIMUS, Inc., a Medicare Qualified Independent Contractor (QIC), from April 2012 through November 2015.
 
 
Kay Larsen, CRCR, is a revenue integrity specialist at Glendale Adventist Medical Center (soon to be Adventist Health Glendale), Glendale, California. She has enjoyed 17 years working in healthcare, including many years as a CDM coordinator. Larsen's favorite part of her job is working with departments maximizing revenue through education and charge review. In her years of work, she has experienced standardization projects, extensive price reviews and conversion of financial systems and still is passionate about revenue integrity. Larsen serves as an advisory board member for NAHRI.
 
 
Laura Legg, RHIA, RHIT, CCS, CDIP, is experienced as a leader, consultant, coding expert, speaker, trainer and auditor for acute care and critical access hospitals and major health systems. Legg is the director of revenue integrity solutions at BESLER where she lends her expertise to help clients improve operations, deliver education, and ensure compliant coding and billing. She is a member of HFMA, AHIMA, AAPC, and NAHRI. Legg speaks regularly at regional and national AHIMA events, and she is an advisory board member for Briefings for Coding Compliance and an AHIMA mentor.
 
 
 
William L Malm, ND, DNP, CRCR, CMAS, is a managing director at Health Revenue Integrity Services. He is a nationally recognized author and speaker on topics such as healthcare compliance, chargemasters, and CMS recovery audits. Malm brings over 25 years of experience with a combination of clinical and financial healthcare knowledge that encompasses all aspects of revenue integrity. Previously, Malm played a key role in providing revenue integrity and data expertise for Craneware, Inc., the market leader in revenue integrity software solutions. He also serves as the secretary/treasurer for the Certification Council of Medical Auditors. He has extensive experience with all postpayment audits, having previously worked as a systems compliance officer at a large for-profit healthcare system.
 
 
Maureen McCarthy, RN, BS, RAC-MT, QCP-MT, DNS-MT, is the President of Celtic Consulting, LLC, in Torrington, Connecticut, and the CEO and founder of Care Transitions, LLP, a post discharge care management service provider. Recognized as an industry leader in clinical reimbursement for long-term care, Maureen has been a registered nurse for over 30 years with experience as an MDS coordinator, director of nursing, rehab director, and a Medicare biller. Maureen and her associates at Celtic Consulting regularly provide consultation focusing on 5-Star quality improvement programs, quality auditing, clinical care management, PDPM/PPS/MDS/CMI services, and compliance solutions including Medicare compliance auditing and custom education, to meet any organization's needs.
 
 
 

Linda J. McCray, CPA MBA, started her accounting career in a small public accounting firm in north west Washington. She started her journey in healthcare as an internal auditor for Adventist Health. She worked in several positions during her career with Adventist Health, such as director of fiscal services, CFO, and regional CFO. Since retirement, she has consulted with hospitals working to improve charge capture in electronic medical records. She also volunteers as treasurer for a private Christian school and assistant treasurer for her local church. She enjoys spending time with her family and working in the yard.

 

 
 
Stacey McCreery established ROISG following her extensive tenure as executive director of Indiana University Health, the largest healthcare system in Indiana. The scope of her work was broad and included the mergers and acquisitions of several hospitals, system-wide corporate budgeting and training, as well as the financial integrations of several hospitals and physician groups. McCreery's previous engagements include financial responsibility for three Indianapolis, Indiana hospitals: Methodist Hospital, University Hospital, and Riley's Hospital for Children. She was with the transformation team from inception at the largest healthcare system in Indiana, saving $54M through lean efforts.
 
 
Sheldon A. Pink, MBA, FHFMA, is the chief of revenue cycle management for American Academic in Philadelphia. Hehas more than 18 years of experience in managing the mission, vision and purpose of Revenue Cycle Management activities and processes for multi-integrated health networks in not for profit and for profit health systems. Sheldon's contributions have been critical to a variety of revenue cycle initiatives that improved reimbursement by over 150 million dollars in several organizations. He constantly provided strong support in fulfilling the companies' collection responsibilities for both hospital and physician operations, meeting strategic goals and exceeding company objectives.  Sheldon has experience leading national operational teams in the areas of Hospital & Physician Billing, Patient Access, Accounts Receivable, Revenue Integrity, System Implementations, Payor Contracting, Vendor Management and Performance Improvement. His prior positions focused on communicating a compelling and inspired vision and sense of core purpose to stakeholders of the organization; he talks beyond today; talks about possibilities; is optimistic; creates mileposts and symbols to rally support behind the organizational vision. He has inspired and motivated Revenue Cycle cultures in organizations. Sheldon has a Bachelor's of Science in Accounting & Finance; and a Masters of Business Administration (MBA) in Healthcare Administration. Both degrees were acquired at Wilmington University in Delaware. He is a Certified Healthcare Financial Professional (CHFP) and Fellow of the Healthcare Financial Management Association (FHFMA). Other memberships include the National Association of Healthcare Revenue Integrity (NAHRI), American College of Healthcare Executives (ACHE), American Association of Healthcare Administrative Management (AAHAM) and the National Association of Healthcare Access Management (NAHAM).  Sheldon was co-chair of the HFMA Philadelphia Chapter Revenue Cycle committee before joining American Academic Health System. He has presented at various industry conferences and groups across the country for HFMA & ACHE discussing the economic challenges & solutions in our healthcare environment.
 
 
Megan Reavis, MBA, BS, COTA/L, is a national educator and has worked primarily in the geriatric setting as a clinician and in management, including as rehab director and area director, for the past 23 years. She started MCR Seminars out of Lansdale, Pennsylvania, as a platform for educating therapists and has written and taught numerous continuing education courses for the long-term care setting. For the past 10 years, Reavis has been teaching and designing workshops to address the needs of occupational, physical, and speech therapists in various settings focusing on the changing trends of how therapy is being provided in their work and community. Reavis is the author of The Fabulous Book of Functional Activities.
 
 
 
Valerie A. Rinkle, MPA, CHRI, is a lead regulatory specialist and instructor for HCPro's Revenue Integrity and Chargemaster Boot Camp as well as instructor for the Medicare Boot Camp®—Hospital Version, Medicare Boot Camp®—Utilization Review Version, and Medicare Boot Camp®—Critical Access Hospital Version. Rinkle is a former hospital revenue cycle director and has over 30 years of experience in the healthcare industry, including over 12 years of consulting experience in which she has spoken and advised on effective operational solutions for compliance with Medicare coverage, payment, and coding regulations.
 
 
Caroline Rader Znaniec, MBA, MS-HCA, is the owner and consulting lead of Luna Healthcare Advisors LLC in Denton, Maryland. In the past, she held various positions both within consulting and the industry. Znaniec was the national revenue integrity lead for Grant Thornton LLP (Baltimore), associate director of charge integrity at Navigant Consulting (Baltimore), corporate compliance officer at Anne Arundel Health System (Annapolis, Maryland), senior consultant of the national CDM practice of KPMG LLP (Baltimore), clinical operations manager at Children's National Medical Center (Washington, D.C.), business operations manager of Halpern Eye Care (Dover, Delaware), and physician billing representative at Peninsula Regional Medical Center (Salisbury, Maryland). She holds a Bachelor of Science in Corporate Health as well as a Master's in Business Administration and Masters of Science Management in Healthcare Administration.
 
 
 
Jugna Shah, MPH, is the president and founder of Nimitt Consulting, Inc., a firm specializing in case-mix payment system design, development, and implementation. She has 15 years of experience working with providers on the ongoing clinical, operational, financial, and compliance implications of Medicare's OPPS based on APCs. Shah has educated and audited numerous hospitals on their drug administration coding and billing practices. She has contributed to several books and numerous OPPS/APC articles and is a contributing editor of HCPro's Briefings on APCs. Shah serves as an advisory board member for NAHRI.
 
 
 
Angela Lynne Simmons, CPA, is the vice president of revenue and reimbursement at Vanderbilt University Medical Center. A Texas Certified Public Accountant, she brings more than 30 years of experience in healthcare operations and finance, and public accounting for healthcare entities. Simmons has expertise in healthcare policy, reimbursement principles from government programs (Medicare and Medicaid) as well as healthcare financial analysis and cost accounting. Much of her focus throughout her career has been on identifying revenue opportunities and pursuing those through improving hospital operations and by Medicare filings and appeals. Prior to relocating to Vanderbilt, she was the director of clinical revenue and reimbursement for U.T. M.D Anderson Cancer Center where she was responsible for Medicare and Medicaid reimbursement, cost accounting, revenue and rate-setting, financial analysis and clinical decision support reporting. Simmons serves as an advisory board member for NAHRI.
 
 
Stacie Smith, EMBA, RHIA, is the senior program manager of revenue integrity at Children's National Medical Center in Washington, DC. Smith has over 30 years' experience in HIM, revenue cycle and revenue integrity. Smith has a demonstrated history of working in hospitals, health organizations and other areas of the healthcare industry. She is skilled in healthcare consulting, software implementation, MC/MCD, healthcare operations, teaching, and team building among multiple other areas. She completed here undergrad work with an Associate of Science focused in Health Services/Allied Health/Health Sciences from Eastern Kentucky University, a Baccalaureate of Arts in Organization Management from Midway College, and graduate work in a Master of Business at Sullivan University. She is a member of AHIMA and assisted in the publication of articles in AHIMA and completed an audio seminar on revenue cycle with AHIMA.
 
 
Tracey A. Tomak, RHIA, PMP, is the director of project management and client engagement at Intersect Healthcare in Towson, Maryland. She has more than 20 years of experience in revenue cycle with a focus on hospital coding, charge capture, and denials management. In her current, Tomak is responsible for coordinating project implementation of Intersect Healthcare's Veracity software. She works directly with clients to ensure that they are fully utilizing the Veracity software to effectively manage commercial and government audits and denials. Tomak is an active member of IHIMA, serving as the Nominating Committee Chair for the 2018–2019 year.
 
 
Suzanne Tschetter, CPA, leads the Revenue Integrity department at the Cleveland Clinic.  During her 27 years at the Cleveland Clinic, Tschetter obtained her MBA and actively engaged in a variety of roles from corporate finance to revenue cycle focusing on root cause analysis, process improvement and revenue verification.  During her most recent 21 years in revenue cycle, she co-chaired the compliance committee giving her a deep appreciation for revenue integrity.  The transition of the Revenue Assurance team under her leadership enhanced her involvement with the clinical departments to ensure optimal charge capture. 
 
 
Diane Weiss, CPC, CPB, CCP, is the vice president, reimbursement, for RestorixHealth in Metairie, Louisiana. Weiss joined RestorixHealth in Metairie, Louisiana, in June 2011 which facilitated the formation of the New Orleans office revenue cycle team. Prior to joining RestorixHealth (formerly Wound Care Specialists), Weiss managed a general surgery practice for 10 years in the Greater New Orleans area where she served as practice manager and was also the surgeons in-office medical assistant. In 1995, her career moved to the payer side. She became the provider education representative for Pinnacle Medicare Services, providing CMS Medicare Part B provider education and denial management for providers throughout Louisiana and other states within the MAC jurisdiction. For those 12 years with Medicare, Weiss conducted provider education workshops, seminars, and spoke to a variety of specialty societies, coding groups and medical manager associations. She provided information and assistance with claims submission issues, denial management and effectively communicated CMS' annual changes regarding reimbursement and coverage for Part B Providers. She also served as Ochsner Health System's Internal Medicare Consultant for five years before joining RestorixHealth in a full-time capacity.Weiss serves as an advisory board member for NAHRI.
 
 
Denise Williams, COC, is senior vice president of the revenue integrity division and compliance auditor at Revant Solutions, Inc. She has more than 30 years of healthcare experience, including a background in multiple areas of nursing. For the past 25 years, Williams has been in the field of coding and reimbursement and has performed numerous E/M, OP surgical, ED, and observation coding chart reviews from the documentation, compliance, and reimbursement perspectives. She serves as a contributing author to articles published in HCPro's Briefings on APCs and is a nationally recognized speaker on various coding and reimbursement topics. Williams serves as an advisory board member for NAHRI.
 
 
Joseph Zebrowitz, MD, has focused his career on assisting hospitals in gaining a true picture of their compliance profiles through analysis and audit and advancing lasting solutions to provide enduring compliance and revenue integrity. Zebrowitz is FOUNDER AND CO-CHIEF EXECUTIVE OffiCER of Versalus Health where he has led the Versalus team in the development of an innovative approach to 2-midnight rule compliance and managed care performance. Before Versalus, Zebrowitz founded and was managing partner of Devon Hill Capital Partners. At DHCP, Zebrowitz identified and led investments in several successful healthcare startups. Before DHCP, Zebrowitz spent 12 years as executive vice president and senior medical director of Executive Health Resources (EHR), where he led the development of EHR's compliance and revenue integrity products endorsed by the AHA as "Best in Class." Zebrowitz regularly conducted educational sessions for EHR's client and completed hundreds of regulatory assessment audits for EHR's hospital clients. Prior to joining EHR, Zebrowitz was a founder and vice president of Strategic Alliances at eHealthContracts, now Concuity, Inc. Before Concuity, Zebrowitz was a practicing obstetrician/gynecologist at Abington Memorial Hospital in Pennsylvania.
 
 
Continuing Education
---
*Stay tuned for updated 2019 Continuing Education Credit Offering
---

Thank you for your interest in the Revenue Integrity Symposium. Please continue to visit us for updates. We will be updating this page frequently as details are finalized.
Please note that the program materials will be available via download and the conference app only. A download link will be provided prior to the event, but a printed book of the presentations will not be available on-site.
Pricing
---
Main Conference: Tuesday, October 15 – Wednesday, October 16, 2019
Retail
Base Price: $1,199.00
Early Bird Price: $1,099.00 – Ends August 17, 2019!
NAHRI Members
Base Price: $1,099.00
Early Bird Price: $999.00 – Ends August 17, 2019! 
AMBR Members save $100

Group Rate (5 at the price of 4)
Base Price: $4,800 ($960/person)
Your discount will automatically appear in your cart when you register your Team of Five.
---

Thank you for your interest in the Revenue Integrity Symposium. Please continue to visit us for updates. We will be updating this page frequently as details are finalized.
Please note that the program materials will be available via download and the conference app only. A download link will be provided prior to the event, but a printed book of the presentations will not be available on-site.
Location/Details
---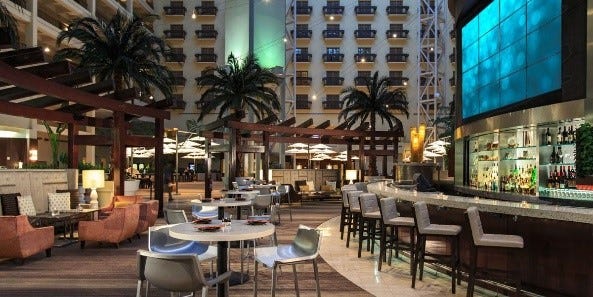 WHERE: Renaissance Orlando
6677 Sea Harbor Drive
Orlando, FL 32381
Room rate: $219/night (includes nightly resort fee)
Hotel cut-off date: Friday, September 20, 2019
Toll-Free Reservation Center: 1-407-351-5555 and referring to Event code, HCPro Revenue Integrity Symposium
Reservations URL: https://book.passkey.com/e/49861368
Our resort is just minutes from Walt Disney World® and other attractions for you to discover. RIS 2019 attendees will receive special discounted rates to attend some of the following local attractions. To purchase discounted tickets to the Disney parks, click here or call 407-566-5600 by October 12, 2019. Stay tuned for additional details!
Magic Kingdom Park®
Disney's Hollywood Studios®
Disney's Animal Kingdom®
Epcot®
Disney Springs ®
Disney's Blizzard Beach ® and Disney's Typhoon Lagoon ®
Universal Studios Florida®
Universal's Islands of Adventure®
I-Drive 360
Orlando Premium Outlets Shopping Mall
Kennedy Space Center
*all prices are subject to change
CONVENTION TICKET INFORMATION FOR SEA WORLD & DISCOVERY COVE
For SeaWorld Tickets (Convention Group Rate) please click here.  Please note, rates change based on dates/availability.
UNIVERSAL STUDIOS
For current ticket pricing, information and to purchase attraction tickets, please call 407-248-7323 for assistance. Make sure to identify yourself as part of RIS at the Renaissance Sea World.
Disney Springs  Show Your Badge Program
http://www.wdwdvm.com/concepts/Disney_Springs_Show_Your_Badge_Offers.pdf

Thank you for your interest in the Revenue Integrity Symposium. Please continue to visit us for updates. We will be updating this page frequently as details are finalized.
Please note that the program materials will be available via download and the conference app only. A download link will be provided prior to the event, but a printed book of the presentations will not be available on-site.
Sponsors/Exhibitors
---
Interested in becoming a 2019 RIS Sponsor?
For information on sponsorship and exhibition, please contact Carrie Dry at cdry@h3.group or 630-235-2745.
---
---

Thank you for your interest in the Revenue Integrity Symposium. Please continue to visit us for updates. We will be updating this page frequently as details are finalized.
Please note that the program materials will be available via download and the conference app only. A download link will be provided prior to the event, but a printed book of the presentations will not be available on-site.