The National Association of Healthcare Revenue Integrity (NAHRI)
Why is it the right time to launch the National Association of Healthcare Revenue Integrity? Because now more than ever getting revenue cycle done right is critical to the health of our organizations and in turn our ability to successfully carry our mission to patients. Developing highly effective revenue integrity professionals to provide coordinated, defendable, and compliant reimbursement requires a community dedicated to supporting them right now.
BECOME A CHARTER MEMBER TODAY
NAHRI is dedicated to providing the hospital revenue integrity community the resources, networking, and training required to achieve efficiency, compliance, and optimized reimbursement for their organization. By becoming a charter member, you gain access to a vast body of revenue cycle knowledge, high-quality training programs, the latest tools and tactics, exposure to leading-edge thinking, and opportunities to interact with your peers.
INNOVATION, EDUCATION, AND CONNECTIONS
NAHRI's mission is to enhance the revenue integrity profession through standards, advocacy, networking, and the promotion of shared knowledge and resources. This mission statement was developed by our NAHRI Advisory Board, an amazing group of revenue integrity professionals who bring a wide range of expertise and experience to this organization's leadership.
PEER-BASED RESOURES AND TOOLS
As a NAHRI member, you'll get unlimited access to our vast members-only resources, tools, and content such as white papers, best practices, and research reports written by the most respected names in the industry. Resources include:
Member-Only Content, explore the hundreds of the latest articles and research by topic, including white papers and best practices, plus an extensive archive on the NAHRI website
NAHRI Revenue Cycle Toolkit, a handbook full of interactive templates, tools, and resources to help you in your job
A library of sample webinars and other content on the latest revenue cycle topics
NAHRI quarterly journal, featuring in-depth, members-only content on the latest developments in revenue cycle

LOCAL CHAPTERS
Be on the ground floor in establishing your local chapter! It's a great way to: 
Quickly integrate and network with other revenue cycle professionals 
Expand your management, leadership, and public speaking skills by volunteering for the chapter executive board

CONFERENCES AND TRAINING
Members receive significant discounts on all national and local NAHRI events. Learn from the best and brightest, interact and network with industry leaders, or roll your sleeves up and participate in an intensive, in-person, training events.
CAREER RESOURCES AND UPCOMING CERTIFICATION
NAHRI members receive discount off of future certification program. This program will provide professionals like you a tangible way to enhance and promote your revenue cycle skills.
I speak for the NAHRI Advisory Board when I say we all have visions of amazing strides we can make together in the industry. Now is the time. Simply fill out the charter membership form enclosed and return it today. I look forward to you joining our growing community of revenue integrity professionals.
Sincerely,
Andrea Kraynak, CPC Director, NAHRI
akraynak@nahri.org
The National Association of Healthcare Revenue Integrity (NAHRI) - Welcome Kit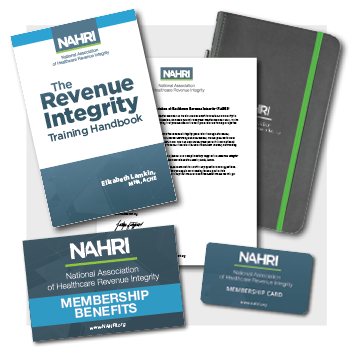 As a charter member you'll receive a limited-time only welcome kit that includes:

Personalized membership card
NAHRI logo embossed journal
A complimentary copy of the Revenue Integrity Training Handbook, written by NAHRI board member Elizabeth Lamkin, MHA, ACHE.
And a printed guide to your membership benefits
The National Association of Healthcare Revenue Integrity (NAHRI) - Benefits
Your charter membership in NAHRI includes:
In-depth news, analysis, and regulatory information, case studies on building successful programs, and membership profiles in our quarterly journal, the NAHRI Journal
An opportunity to network with peers and colleagues in the NAHRI Discussion Forum
Advocacy and leadership from the NAHRI Advisory Board
Bi-Weekly tips, news, and strategies in our e-newsletter, Revenue Integrity Insider
Access to live and archived quarterly conference calls, hour-long networking discussions, and more
Helpful tools accessed in our electronic Resource Library, including sample queries, policies, and tools
Access to the Revenue Cycle Career Center
Discounts to the annual Revenue Integrity Symposium, certification (coming soon!), and HCPro Boot Camps
Contributors (2017 NAHRI Advisory Board)
Catherine Boerner, JD, CHC
President, Boerner Consulting, LLC, New Berlin, WI 
Sarah L Goodman, MBA, CHCAF, CPC-H, CCP, FCS
President/CEO, SLG, Inc., Raleigh, NC
Ronald Hirsch, MD, FACP, CHCQM
Vice President, R1 Physician Advisory Services, Chicago, IL
Elizabeth Lamkin, MHA, ACHE
CEO & Partner, PACE Healthcare Consulting, LLC, Bluffton, SC 
Kay Larsen 
Revenue Integrity Specialist, Glendale Adventist Medical Center, Glendale, CA 
Lisa Longo, CPC, CPC-I 
Revenue Cycle Analyst, Middlesex Hospital, Middletown, CT 
Debbie Mackaman, RHIA, CPCO, CCDS
Regulatory Specialist, HCPro, Middleton, MA 
Debra May
Director Revenue Integrity, Renown Health, Reno, NV  
Terri Rinker, MT (ASCP), MHA
Revenue Cycle Director, Community Hospital Anderson, Anderson, IN 
Valerie Rinkle, MPA
Regulatory Specialist, HCPro, Middleton, MA 
Anna Santoro, MBA, CCS, CCS-P, RCC
System Director Revenue Integrity/CDM, Hartford Healthcare, Newington, CT 
Donna Schneider, RN, MBA, CPHQ, CPC-P, CHC, CPCO, CHPC
System Revenue Compliance Officer, Yale New Haven Health, New Haven, CT 
John D. Settlemyer, MBA, MHA, CPC
Associate Vice President Revenue Cycle, Carolinas HealthCare System, Charlotte, NC 
Jugna Shah, MPH
President, Nimitt Consulting Inc., Spicer, MN 
Angela Lynne Simmons, CPA
VP Revenue and Reimbursement, Vanderbilt University Medical Center, Nashville, TN 
Diane G. Weiss, CPC, CPB, CCP
Vice President, Reimbursement, RestorixHealth 
Denise Williams, RN, COC
Senior Vice President, Revenue Integrity Services, REVANT Solutions, Trussville, AL