2023 JustCoding Pocket Guide: Coding guidance & trusted clinical insights, together at last
Co-written by ACDIS' CDI Education Director Laurie Prescott, RN, MSN, CCDS, CDIP, CRC, CCDS-O, and Director of HIM and Coding Shannon E. McCall, RHIA, CCS, CCS-P, CPC, CPC-I, CEMC, CRC, CCDS, this powerful resource provides the key information you need to accurately and efficiently code claims. Understand ICD-10 and E/M coding requirements for both inpatient and outpatient settings. Walk through diagnostic criteria, official coding guidelines and documentation requirements so that you can accurately validate and code your most common diagnoses.
The 2023 JustCoding Pocket Guide breaks down complex coding topics into easy-to-understand concepts so that coding professionals can accurately and efficiently do their job.

Published: December 2022
Page count: 592 + 4 Tabs
ISBN: 978-1-64535-191-7
Tired of carrying coding books around? Check out JustCoding Pro, our digital, customizable alternative.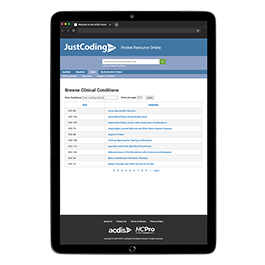 Get the same Pocket Guide experience digitally from any device, complete with the latest coding guidance & clinical insights, unique customizability, and much more.
Learn more at https://hcmarketplace.com/justcoding-pro or check out a brief demo of JustCoding Pro below.
Want to know more?
JustCoding.com
Helping coders, managers, entire teams test their coding knowledge, pursue certification, and advance in their profession, JustCoding is the continuing education destination for coding professionals. Earn at least 24 AAPC, 24 ACDIS, and 48 AHIMA credits per year!
JustCoding will keep your skills sharp, test your coding knowledge, and help you stay abreast of CMS changes whether you're working as a hospital inpatient or outpatient coder or in a physician practice.
Let our team break down anatomy, terminology, documentation rules, and coding guidelines for settings that report ICD-10-CM, ICD-10-PCS, CPT®, and HCPCS codes.
Check out the JustCoding website at www.JustCoding.com or view a demo of the site here.