Revenue Cycle Advisor
Your Key to an Optimized Revenue Cycle
Unlock the doors to the latest revenue cycle news, analysis, and education your organization needs with Revenue Cycle Advisor as your key. This comprehensive website combines all of HCPro's revenue cycle regulatory, compliance, case management, HIM, and reimbursement resources, giving you a single trustworthy tool to help you navigate the ever-changing healthcare landscape.
Stop scanning through endless rules and trying to interpret complex regulations—our regulatory experts will analyze and break down the most pertinent information for your organization in a straightforward but thorough way. The easy-to-access portal includes monthly newsletter subscriptions packed with strategies and trends, quarterly members-only webinars, and the opportunity to network with peers through online forums. As an added perk, a daily email newsletter highlighting the latest revenue cycle news will be delivered right to your inbox.
Revenue Cycle Advisor meets the needs of healthcare professionals by:
Providing a credible, go-to source for regulatory compliance and reimbursement information
Delivering education and training to billing, reimbursement, compliance, HIM/HIPAA, case management, and other professionals who must stay up-to-date on the latest CMS activities
Offering valuable resources, including a community of fellow revenue cycle professionals with whom to share ideas and ask questions
Providing access to a helpful resource library with forms, tools, webinars, and books
Covering regulatory changes and highlighting critical information for the evolving world of healthcare compliance, case management, HIM/HIPAA, revenue integrity, and reimbursement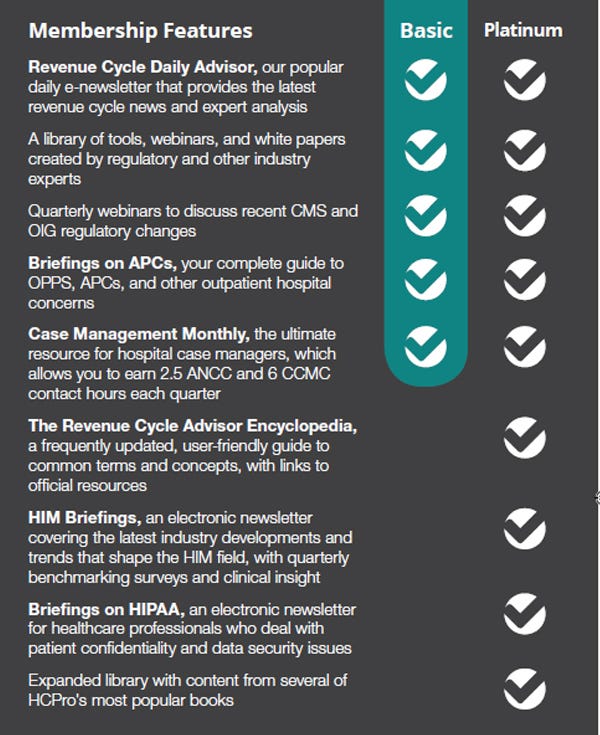 Check out the various membership levels. Click on each tab for more information.
View this demo of Revenue Cycle Advisor for more information on how to use the website and what is included in a membership.
Revenue Cycle Advisor: Basic Membership
Basic Membership ($595 annually) benefits include:
Revenue Cycle Daily Advisor, our popular daily e-newsletter that provides the latest revenue cycle news and expert analysis
A library of tools, webinars, and white papers created by regulatory and other industry experts
Quarterly webinars to discuss recent CMS and OIG regulatory changes
Electronic access to the following newsletters:

Briefings on APCs, your complete guide to OPPS, APCs, and other outpatient hospital concerns
Case Management Monthly, the ultimate resource for hospital case managers, which allows you to earn 2.5 ANCC and 6 CCMC contact hours each quarter
Revenue Cycle Advisor: Platinum Membership
Platinum Membership ($895 annually) benefits include:
Basic Membership benefits plus
The Revenue Cycle Advisor Encyclopedia, a frequently updated, user-friendly guide to common terms and concepts, with links to official resources
Electronic access to additional newsletters:
HIM Briefings, covering the latest industry developments and trends that shape the HIM field, with quarterly benchmarking surveys and clinical insight as well as the ability to earn 1 CCDS credit each quarter
Briefings on HIPAA, the long-running resource for healthcare professionals who deal with patient confidentiality and data security issues
Expanded library with content from several of HCPro's most popular books
Revenue Cycle Advisor: Contributors