How to Establish an Antimicrobial Stewardship Program - On-Demand
Available ON-DEMAND
Presented on: 
Wednesday, May 18, 2016
1:00–2:30 p.m. Eastern 

Presented by: 
Jennifer Pisano, MD
Sponsored by:
Patient Safety & Quality Healthcare

Level of Program:
Basic 

Antimicrobial overuse is a major problem for hospitals. Overuse of antibiotics can lead to the development of multidrug-resistant organisms, unintended antibiotic toxicity, and Clostridium difficile infections. CMS and The Joint Commission have increased their emphasis on antimicrobial stewardship programs as a way to control this growing issue. 

During this on-demand program, expert speaker Jennifer Pisano, MD, will explain why antimicrobial stewardship programs (ASP) are important and how to establish a program in your facility. Utilizing her experience and successful track record, she will show attendees how her center has achieved a 95% acceptance rate by providers for stewardship recommendations. 

At the conclusion of this on-demand program, participants will be able to: 

Discuss the importance of antimicrobial stewardship and its relation to overall patient care (inside/outside the acute care setting) 
Understand how to get an ASP started 
Discuss ways to measure outcomes of an ASP 
Outline the aspects of ASPs that are of interest to regulatory bodies 



Who Should Attend? 
Accreditation professionals 
Patient safety professionals 
Quality directors 
Risk managers 
Infection control professionals 
Infection preventionists 
Directors of nursing 
Hospital leadership 

Agenda 
Making the case for antimicrobial stewardship to hospital leadership 
First steps in starting an ASP 

Systems-based vs. behavioral change 

Approach to outcomes measurement—continually proving your worth 

Utilization/cost vs. safety goals 

Planning for compliance with regulatory agencies 

Potential focus areas for CMS, Joint Commission 

Q&A (not live) 



Tools 
CDC checklist for antimicrobial stewardship 
Link to National Action Plan for antimicrobial stewardship 
Links to draft CMS indicators 
Meet the Speaker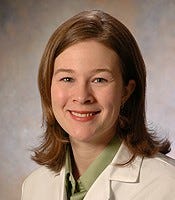 Jennifer Pisano, MD, is on the faculty of the University of Chicago Medicine and Biological Sciences in the section of infectious diseases and global health. She is an infectious disease physician, with a focus in infectious diseases of the immunocompromised host, and is medical director of the Antimicrobial Stewardship Program (ASP), a nationally recognized program that received the 2012 American Society of Health-System Pharmacists (ASHP)'s Best Practice Award. As medical director of the ASP, Pisano leads a team whose primary objective is to improve clinical outcomes and curb antimicrobial resistance through the safe and judicious use of antimicrobials in her hospital and community. She has helped to build a nationally recognized program that has demonstrated both cost savings and improved quality of care at the University of Chicago Medicine.

Webinar system requirements and program materials:
To fully benefit from the webinar experience, please note you will need a computer equipped with the following:
Browser: Microsoft Internet Explorer 6 or later, Firefox, Chrome, or Safari, with JavaScript enabled
Internet: 56K or faster Internet connection (high-speed connection recommended) 
Streaming: for audio/video streaming, Adobe Flash plug-in or Safari browser on iOS devices
Prior to the webinar, you will receive an email with detailed system requirements, your login information, presentation slides, and other materials that you can print and distribute to all attendees at your location.
COULDN'T LISTEN LIVE? 
No problem. The On-Demand version is also available. Use it as a training tool at your convenience—whenever your new or existing staff need a refresher or need to understand a new concept. Play it once or dozens of times. A $199 value! 

Please note 
Participation in this webinar is just $199 per site. All materials must be retrieved from the Internet. 

Call your customer service representative toll-free 800-650-6787 or email customerservice@hcpro.com if you have questions.