Developing a Provider Wellness Program - On-Demand
Available ON-DEMAND

Presented on: Tuesday, January 28, 2020 
Presented by: Barbara Warstler, MBA, CPMSM, FASPR
Over the past few decades, understanding of the importance of the emotional, physical, and overall wellness of provider has significantly increased. The impetus for this new focus on wellness is the realization that providers must first be able to care for themselves before they can care for their patients optimally. While facilities are actively seeking different options for promoting wellness, perhaps the most effective option is to implement a wellness program.
In this 90-minute webinar, Barbara Warstler, MBA, CPMSM, FASPR, will discuss how to prioritize provider well-being by developing a comprehensive wellness program. Warstler will offer tips and best practices for developing a provider wellness committee with a specific procedure for dealing with impaired, disruptive, and/or burned out providers in a methodical and nonpunitive way. Additionally, Warstler will provide actionable guidance for developing a committee charter and will conduct a live Q&A session for attendees to get their most pressing questions answered.
At the conclusion of this program, participants will be able to:
Specify the role and purpose of a wellness committee.
List key components to include in developing a charter for a wellness committee.
Identify tools and resources to aid a wellness committee in effectively carrying out its duties.

Agenda
What is a provider wellness committee, and why is it needed?
Who should be on the wellness committee?
Developing a wellness committee charter
Identifying tools and resources to aid the wellness committee
Documenting wellness committee meetings
Live Q&A

Tools
Sample wellness policy (contains information on how to proceed when confronted with a potentially impaired or disruptive provider)
Sample wellness committee charter
Who Should Listen?
MSPs
Medical staff leaders
Physician leaders
Chiefs of staff
Department chairs
Committee chairs
Medical staff services
Meet the Speaker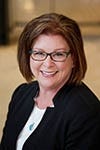 Barb Warstler joined The Hardenbergh Group in 2019 as the associate vice president, client relations. She brings 20 years of credentialing, medical education, physician relations, and physician recruitment experience to her role working with hospital administrators, medical staff leaders, and MSPs in hospitals, health systems, CVOs, health plans, medical groups, and networks across the United States. Barb leverages her vast professional experience to identify and place experienced, qualified MSPs to help clients fill temporary vacancies, supplement existing staff during peak workloads, assess and improve operational efficiency, prepare for upcoming regulatory surveys and audits, pursue National Committee for Quality Assurance (NCQA) accreditation and certification, and more.
Prior to joining The Hardenbergh Group, Barb was the director of medical staff services, credentialing and provider enrollment for the University Hospitals Health System in Cleveland, Ohio. At UH, she led the centralization of UH's disparate medical staff offices; the transition to a paperless, system-wide reappointment process; the integration of six new hospital medical staffs into the system; and the integration of the provider enrollment and medical staff services and credentialing departments into a single department which earned perfect scores on its NCQA Central Verification Organization (CVO) survey as well as the Morrisey Innovation and Quest for Quality Awards. In addition, she developed and implemented comprehensive physician, Medical Staff leader, Chief Medical Officer, and Department Chair onboarding and orientation programs.
Barb is a certified Fellow in the Association for Advancing Physician and Provider Recruitment, maintains her Certified Professional Medical Services Management (CPMSM) status, is certified in Lean-Six Sigma, and, in 2018, received the Credentialing Resource Center Collaboration Award.
Instructions
Webinar system requirements and program materials: 
To fully benefit from the webinar experience, please note you will need a computer equipped with the following:
Browser: Microsoft Internet Explorer 6 or later, Firefox, Chrome, or Safari, with JavaScript enabled 
Internet: 56K or faster Internet connection (high-speed connection recommended) 
Streaming: for audio/video streaming, Adobe Flash plug-in or Safari browser on iOS devices 

Prior to the webinar, you will receive an email with detailed system requirements, your login information, presentation slides, and other materials that you can print and distribute to all attendees at your location.
CAN'T LISTEN LIVE? 
No problem. The On-Demand version will be available. Use it as a training tool at your convenience—whenever your new or existing staff need a refresher or need to understand a new concept. Play it once or dozens of times. A $199 value!
PLEASE NOTE 
Participation in the webinar is just $199 per site. All materials must be retrieved from the Internet.
Call your customer service representative toll-free 800-650-6787 or email customerservice@hcpro.com if you have questions.