Primary care redesign is key to improving outcomes and reducing costs. Experts agree on the goals—increased collaboration, a team approach, and greater patient responsibility—but how do you achieve them? This report, The New Primary Care Model: A Patient-Centered Approach to Care Coordination, explores how to marshal scarce resources in the shift to a risk-sharing outcomes-based model while keeping patients at the center.
With this report, you'll learn answers to key strategic questions such as:
How has Atlantic ACO incentivized physician engagement in primary care redesign by offering its physicians advance payments on future Medicare Shared Savings Program awards?
What do healthcare leaders deem the greatest barriers to primary care redesign—and how will they address them?
How has the use of embedded case managers coordinating care at Taconic IPA reduced 30-day readmissions?
Primary care transformation requires concurrent work on many fronts—which aspects of primary care delivery should be addressed first, and why?
How did Oregon Health & Science University lower hospitalization rates and improve clinic throughput by colocating primary care and behavioral health providers?
Which physician compensation measures are preferred overwhelmingly in primary care redesign efforts?
Which patient engagement tactics are best—today and in the future—at supporting primary care redesign?
How and when are providers reaching beyond their known partners to coordinate care for primary care redesign?

This report, part of HealthLeaders' Intelligence Report Premium series, offers the latest primary care strategies from industry peers, including survey results drawn from the HealthLeaders Media Council, an exclusive group of 7,000 healthcare leaders. A new segmentation tool allows you to access more specific, in-depth data by setting, number of beds and sites, net patient revenue, and region.       
This month's report includes:
Case studies from Atlantic Accountable Care Organization Oregon Health & Science University Family Medicine, and Taconic Independent Practice Association
Analysis and key takeaways from advisors drawn from our HealthLeaders Media Council
Recommendations from the HealthLeaders Media research team
A meeting guide to share with your organization

You can use this report to:              
Track the latest trends in primary care
Gauge your organization's performance and progress compared to peer organizations
Gather insights and advice from industry experts, peer leaders, and the experiences of case study organizations
Access discussion questions that can aid your organization in forming strategies for primary care

Click here to subscribe and save. You won't miss a single report on these key topics: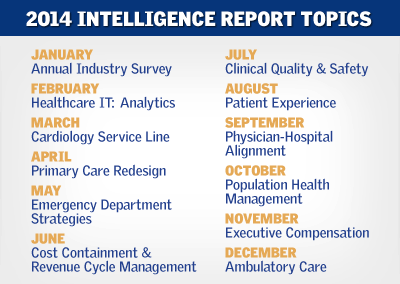 Additional options:
Click here to get the Buying Power version of this report—a version targeting the needs of healthcare product and service providers. It includes all of the content of the Premium version, plus detailed drill-down data on purchasing trends and projections.