JustCoding's Inpatient Documentation Pocket Cards
Donald M. Blanton, MD, MS, FACEP, AHIMA-approved ICD-10-CM/PCS trainer
Keep the coding information you need at your fingertips.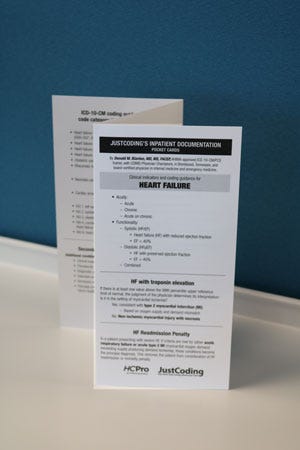 With physician documentation being one of the major challenges when it comes to compliant coding and billing, JustCoding's Inpatient Documentation Pocket Cards provide easy access to necessary details for difficult-to-code conditions and diagnoses, giving you a quick and convenient way to streamline communication between your facility's physicians and coders.
These pocket cards will promote one standardized message with simple, precise, and compliant language. For physicians, the cards will help them document everything that is needed for a given diagnosis—without having to deal with a query from coding or CDI. For coders, the cards are a handy reference to understand what is required for each condition to be clinically valid, helping to reduce both queries and denials.
Download your own sample Pocket Card by clicking here.
Instructions: Print out card & fold into thirds.

About the Author
Donald M. Blanton, MD, MS, FACEP, AHIMA-approved ICD-10-CM/PCS trainer, with CDIMD Physician Champions in Brentwood, Tennessee, is board-certified in internal medicine and emergency medicine. In the early 1990s, he helped create the residency program in emergency medicine at Vanderbilt and was an early trainer of nurse practitioners in management of undifferentiated emergency department patients, moving them from specialists' offices to the front line of care.

Published: May 2017
Dimensions: Laminated, tri-fold 9x4.5
ISBN: 978-1-68308-6

The HCPro Risk-Free Money-Back Guarantee
If for any reason this product does not meet your needs, return it within 30 days and you will receive a prompt, polite, 100% refund—no questions asked. We guarantee it!
List of Card Types
The JustCoding pocket cards are available for the following conditions and include all this listed information and more:
Altered mental conditions and other neurologic conditions

Altered mental status
Transient ischemic attack and stroke
Encephalopathy
Glasgow Coma Scale

Respiratory disorders

Acute respiratory failure
Chronic respiratory failure
Respiratory insufficiency
Postoperative respiratory failure

Heart failure

Heart failure
Heart failure with troponin elevation
Hypertensive crisis
Coding guidance for related ICD-10-CM codes

Myocardial infarction

Acute myocardial infarction
Acute myocardial infarction types
Consequences of myocardial infarction
Troponin elevation
Coding guidance for related ICD-10-CM codes

Diabetes and other endocrine issues

Diabetes
Diabetes (uncontrolled)
Diabetes "with"
Hypoglycemic encephalopathy
Coding guidance for related ICD-10-CM codes

Malnutrition and other nutrition-associated conditions

Malnutrition
Body mass index
Severe malnutrition
Bedridden

Kidney injury

Acute kidney insufficiency
Acute kidney injury
Chronic kidney disease
Coding guidance for related ICD-10-CM codes

Sepsis

Sepsis
Septic shock
Sever sepsis
Sepsis-2
Sepsis-3
SIRS
SIRS "due to infection"

Pneumonia

Simple and complex pneumonia
Antibiotic selection for pneumonia
Pneumonia readmission penalty

Pressure ulcers

Pressure ulcer definitions
Stages of pressure ulcers
Non-pressure ulcer documentation
Debridement of skin, wound, tissue
Buying Instructions
JustCoding's Inpatient Documentation Pocket Cards may be combined and interchanged. You can choose any combination of conditions to fill your four-pack requirement, but the more you choose, the more you can save. Buy 5 or more packs and the price per pack drops to $40! Each pack contains five cards, perfect for sharing within your department or with others in your facility. Choose the specific conditions you require help with, and get access to detailed definitions, clinical criteria, and resources.