Credentialing Case Study: How Banner Health CVO Streamlined Workflows and Improved Customer Satisfaction - On-Demand
Available On-Demand
Presented on:
Wednesday, June 7, 2017

Presented by:
Leslie J. Cox, BS, MHA, CPMSM, CPCS, senior director, Credentials Verification Office, Banner Health, Phoenix, Arizona
Level of Program:
Basic
From individual practitioner applicants to departments and sites spanning healthcare systems, today's MSPs do business with a variety of credentialing stakeholders, all bearing distinctive perspectives and expectations. Excellent customer service goes with the territory, but do MSPs really think of it as a key initiative with tangible implications for their organization's workflows and financial health?
In this on-demand webinar, expert speaker Leslie J. Cox, BS, MHA, CPMSM, CPCS, will share the Banner Health Credentials Verification Office's (CVO) experience-based, practical strategies for making connections with wide-ranging medical staff services and CVO customers—and for harnessing these efforts in far-reaching organizational improvements.
By recognizing the business potential in customer-minded credentialing, the Phoenix-based CVO has rolled out process improvements across its expansive and varied customer base, which encompasses 28 system hospitals in six states and more than 8,000 privileged practitioners. The CVO team's recent accomplishments include streamlining credentialing forms and procedures, simplifying the application process for affiliated physician practices, introducing a common data collection tool to modernize practitioner onboarding across the system, and transitioning two CVO staff members into brand-new customer service roles.
To realize these outcomes, the CVO team conducted strategic outreach, leading more than 50 on-site and Skype-based customer meetings in one year to build relationships, provide service information, and forge productive change. Webinar attendees will gain actionable insight and customizable tools for making similar strides in their organization.
About Banner Health
Nonprofit Banner Health is headquartered in Phoenix, Arizona, and operates 28 hospitals, including three academic medical centers and other related health entities and services in six states.
Banner Health has rapidly evolved from a health system of hospitals to a fully integrated system that includes significantly expanded services through Banner Health Network, Banner Medical Group and, since 2015, Banner–University Medicine.
With more than 400,000 members currently served by the Banner Health's provider networks, Banner has demonstrated the ability to effectively manage the health and wellness of populations of insured members in both government and private plans.
At the conclusion of this on-demand program, participants will be able to:
Identify the resources, steps, and stakeholders necessary to launch and sustain a successful medical staff services/credentialing customer service program 
Develop tools for evaluating stakeholder experiences, identifying improvement opportunities, and educating customers on key services and processes
Explain to executive leaders how prioritizing customer service supports high-functioning workforces and healthy bottom lines

Agenda
The case for prioritizing customer service: An overview of Banner Health CVO's recent, systemwide accomplishments 

Streamline the application process
Standardize procedures across the enterprise
Expand customer access to CVO staff

Identifying key customer groups and evaluating the need for a dedicated customer service initiative 

Banner Health CVO strategy: Meet with organizational leadership and staff

Developing methods and tools for connecting with various customer groups, assessing their diverse experiences, and identifying service improvement opportunities 

Banner Health CVO strategy: Develop satisfaction surveys, introductory letters, logs for capturing stakeholder feedback, and customer-facing educational materials 

Conducting outreach and evaluating findings

Banner Health CVO strategy: Distribute surveys and conduct customer meetings via conference calls and on-site visits

Translating findings into process improvements (Banner Health accomplishments revisited)

Streamline the application process

Modify internal workflows to reduce turnaround times
Remove questions on the application that are not required by regulatory bodies or bylaws and simplify questions that frequently require explanation
Simplify billing options (switch from a graduated fee structure to a flat fee across the board; expand payment options) 
Allow practitioners to enter information into one application data collection tool that can be used in multiple organizational departments 

Standardize procedures across the enterprise

Reduce the number of handoffs and documents collected when onboarding an employed practitioner

Expand customer access to CVO staff

Provide reliable contact information to assist applicants and their staff
Add two customer service representative roles within the CVO

Maintaining relationships and building on progress

Banner Health CVO strategy: Evaluate results and keep communication lines open 

Meet the Speaker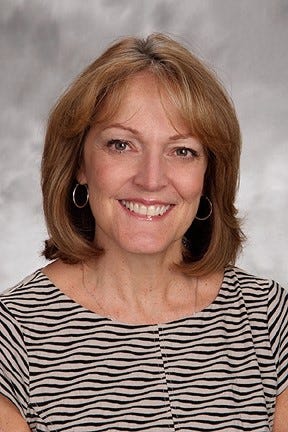 Leslie Cox is senior director of Banner Health's CVO. Previously, she was director of medical staff services at Banner Estrella Medical Center in Phoenix. With over 30 years of experience in the field, Cox has a master's degree in health administration, a Bachelor of Science degree in business administration, and dual certification in professional medical services management (CPMSM, CPCS). She enjoys leading process improvement teams, with a focus on customer service, creating efficiency, and facilitating collaboration among various teams and constituents. She is a member of the Credentialing Resource Center's News, Analysis, and Education Board and co-leads a Health System CVO Leadership Forum in collaboration with Morrisey, A HealthStream Company. 

Webinar system requirements and program materials: 
To fully benefit from the webinar experience, please note you will need a computer equipped with the following: 

Browser: Microsoft Internet Explorer 6 or later, Firefox, Chrome, or Safari, with JavaScript enabled 
Internet: 56K or faster Internet connection (high-speed connection recommended) 
Streaming: for audio/video streaming, Adobe Flash plug-in or Safari browser on iOS devices 

Prior to the webinar, you will receive an email with detailed system requirements, your login information, presentation slides, and other materials that you can print and distribute to all attendees at your location. 

COULDN'T LISTEN LIVE? 
No problem. The On-Demand version is now available. Use it as a training tool at your convenience—whenever your new or existing staff need a refresher or need to understand a new concept. Play it once or dozens of times. A $199 value! 

PLEASE NOTE 
Participation in the webinar is just $199 per site. All materials must be retrieved from the Internet.

Call your customer service representative toll-free 800-650-6787 or email customerservice@hcpro.com if you have questions.