Advanced Specialty Coding Compliance & Reimbursement Symposium
October 7-9, 2019  |  San Antonio Marriott Rivercenter
Sharpen your coding and billing skills, clean up documentation, minimize audit risk, and ensure that your practice optimizes revenue with the tools, tips and guidance you'll get from our expert panel of speakers at this year's Advanced Specialty Coding, Compliance & Reimbursement Symposium. Join us for this must-attend event to get the specialty-specific training you need to code appropriately. We'll cover all the hot topics and answer your most pressing questions.
The symposium features three specialty tracks – Anesthesia, Orthopedics, and Pain Management, plus a new fourth track — Inpatient Coding.
Take a first look at 2020 CPT® codes – get a glimpse from experts in the field on how these changes are likely to impact practices
Get the latest ICD-10-CM updates – make sure you understand the new codes and guidelines
Prepare for clinical documentation improvement – find out what you need to know as a coder to help your clinicians document in accordance with quality measures
Learn to succeed at new coding challenges – including risk adjustment coding and Medicare's merit-based incentive payment system (MIPS)
Ask the Expert – get your specialty-specific questions answered by our coding experts during every session and an open Q&A
Multi-specialty practices can get the training needed at one conference
Plus, review the new fiscal year 2020 ICD-10-PCS procedure codes that will go into effect on October 1 so you can be certain you're correctly reporting inpatient procedures with the utmost specificity.
How do I get more information?
Contact customer service at 800-650-6787 or customer@simplifycompliance.com.
Cancellation Policy
Please click here to view our cancellation policy.
Photography Disclaimer
From time to time, ACDIS or its contractors record, photograph, and/or stream the various aspects and activities of the ACDIS Conference for both archival and promotional purposes. By attending the ACDIS Conference, attendees give ACDIS and its contractors permission to use any attendee's voice and image in any such archival or promotional recording, photograph, or streaming activity without any compensation or credit to the attendee.
CDI in the Medical Practice Setting Pre-Conference
Pre-Conference | Monday, October 7, 2019
This preconference track is brought to you by ACDIS
 
 
8:00 A.M.—9:00 A.M.

Introduction to Clinical Documentation Improvement (CDI) in the medical practice setting 
Shannon McCall
Clinical documentation improvement in the medical practice setting is a growing movement that seeks to improve clinical documentation, advance quality of care, and support medical necessity for procedures and services.

 
 
9:10 A.M.—10:10 A.M.

Building a Program
Tracy Boldt
This session covers how to establish a CDI program, including the practical side of beginning from scratch, using personal stories and real-life scenarios. It covers establishing parameters and expectations and establishing a program goal.

 
 
 
10:30 A.M.—11:30 A.M. 

Obtaining support from providers and your organization
Tracy Boldt
Best practices for building support from the organization and providers to ensure everyone is on the same page, improve information sharing, and decrease queries.

 
 
11:30 A.M.—12:30 P.M.
LUNCH
 
 
12:30 P.M.—1:30 P.M.

Critical concepts relating to provider services coding and payment
Shannon McCall
Key reimbursement methodologies and guidelines in the medical practice setting, including Official Guidelines for Coding and Reporting, Medicare Physician Fee Schedules (MPFS), and risk adjustment (HCCs).

 
 
1:40 P.M.—2:40 P.M.

Critical concepts relating to provider services coding and payment (cont.)
Shannon McCall
Looking at relevant HCPCS (CPT and Level II) code assignment, source authorities, modifiers, and fundamentals of evaluation and management coding.

 
 
2:40 P.M. —3:00 P.M
BREAK
 
 
3:00 P.M.—4:00 P.M.

Benefits to your organization
Tracy Boldt
How can you determine the return on investment to your organization? Plus, ongoing performance analysis and metrics.

 
 
4:10 P.M.—5:10 P.M. 

Provider education
Shannon McCall
This presentation explores common pitfalls related to physician self-coding, strategies to identify these concerns, and tools to empower coding and CDI professionals and providers.

 
 
5:10 P.M.

PRECONFERENCE ADJOURNS

 
 
Inpatient Coding Track
Main Conference | Day 1 Tuesday, October 8, 2019

This main conference track is brought to you by JustCoding
 
 
8:00 A.M.—9:00 A.M.

Keynote: CDI/Coding collaboration: Improving communication
Shannon McCall 


Clinical documentation improvement (CDI) and coder collaboration is essential for medical practices and hospitals alike. This keynote, presented by expert Shannon E. McCall, will cover common pitfalls in CDI and coder communication as well as ways to help bridge any gaps.

 

 
 
9:10 A.M.—10:10 A.M.

Break down the ICD-10-CM Official Guidelines for Coding and Reporting for the inpatient setting
Adrienne Commeree
Each year the ICD-10-CM Official Guidelines for Coding and Reporting are updated with pertinent information for inpatient coders. This session will give attendees a solid understanding of the guidelines as they are imperative for accurate code assignment and reimbursement. 

 
 
10:10 a.m. – 10:30 a.m.

BREAK

 
 
10:30 A.M.—11:30 A.M.

ICD-10-PCS Coding: Common Conundrums
Catrena Smith
Through various case studies, this session will review several areas of ICD-10-PCS coding that can be a source of confusion for coders and/or present an audit risk.

 
 
11:30 A.M.—12:30 P.M.
 LUNCH
 
 
12:30 P.M.—1:30 P.M.
 

FY 2020 MS-DRG and ICD-10-PCS code update
Adrienne Commeree
CMS will release hundreds of new, deleted, and revised ICD-10-PCS codes which will become active October 1. Coders will need to learn new ICD-10-PCS tables and incorporate new characters in existing tables to work with providers, ensuring that documentation is complete and that claims accurately reflect services rendered. This session will help you sift through the changes to various MS-DRG classifications for 2020 and pinpoint changes of note for your facility, review the new and revised code descriptions for the 2020 ICD-10-PCS code set, and determine potential areas of documentation improvement for the new and revised codes.

 
 
1:40 P.M.—2:40 P.M.
 

ICD-10-PCS Diagnostic and invasive cardiology procedures
Shannon McCall
With thousands of ICD-10-PCS code combinations for reporting cardiology procedures, coders must be aware of additional anatomical and clinical details to report the most appropriate code. This session will cover ICD-10-PCS diagnostic and invasive cardiology coding challenges including cardiac catheterizations, percutaneous interventions, bypass grafting and valve replacements. Through examples, this session will provide coders with the details they need to decipher provider documentation and code accurately. 

 
 
2:40 P.M.—3:00 P.M.

BREAK

 
 
2:00 P.M.—2:30 P.M.
 Networking and refreshment break—Exhibit Hall
 
 
3:00 P.M.—4:00 P.M.

Reporting ICD-10-PCS spinal fusion procedures
Adrienne Commeree
Inpatient coders are frequently challenged by reporting spinal procedures accurately in ICD-10-PCS. The complexity of the procedures, frequent gaps in provider documentation, and required anatomical knowledge and terminology can make reporting the most specific procedures very difficult. This session will the review the spinal anatomy as well as spinal fusions. Pertinent coding background and documentation guidelines for ICD-10-PCS will also be covered, as well as best practices for reporting these procedures.

 
 
4:10 P.M.—5:10 P.M.

Joint Session: Fiscal year 2020 ICD-10-CM code update
Shannon McCall
Hundreds of ICD-10-CM code additions, revisions, and deletions will take effect October 1, so coders must dive into these code changes and understand how they influence code sequencing and payment. Providers must ensure their teams are coding to the highest degree of specificity to ensure accurate reimbursement and avoid penalties. During this joint session, expert speaker, Shannon E. McCall, will help you sift through the coding and guideline changes, identify new and revised code descriptions for the fiscal year 2020 ICD-10-CM code set, and determine potential areas of documentation improvement for the new and revised codes.

 
 
5:10 P.M.

DAY 1 ADJOURNS

Main Conference |  Day 2 Wednesday, October 9, 2019


 
 
8:00 A.M.—9:00 A.M.

Getting to the heart of the matter
Shannon McCall
This session will review common inpatient diagnoses including heart failure, myocardial infarction, and diabetes. Detailed knowledge of coding guidance and documentation needs are imperative for properly reporting these diagnoses. The complexity of these conditions, documentation challenges, and differences that impact reimbursement methodologies can make the inpatient coder's job more difficult.

 
 
9:10 A.M.—10:10 A.M.

Tips for Successful ICD-10-CM/PCS and MS-DRG Denials Prevention
Malissa Powers
Every day, government and private payers seem to come up with a new reason to deny ICD-10-CM/PCS claims which, in result, affect MS-DRG assignment. This session will cover these ICD-10-CM/PCS and MS-DRG coding denials while shining a light on the clinical validation components of these rejections. This session will help distinguish coding denials from clinical validation denials and review common trends in payer rejections. Through coding practice examples, this session will give heighted awareness to inpatient coders on these denials and help facilities develop a comprehensive appeal strategy.

 
 
10:10 A.M.—10:30 A.M. 

BREAK

 
 
10:30 A.M.—11:30 A.M.

Swallowing Complex Digestive Procedures in ICD-10-PCS
Nena Scott
During this session, attendees will increase their knowledge and understanding of the ICD-10-PCS coding guidelines and relevant Coding Clinic guidance related to pancreaticoduodenectomies, fundoplications, colectomies, and stoma creation and takedown procedures. Speaker Nena Scott will also refresh knowledge and understanding of anatomy and physiology related to the digestive system.

 
 
11:30 A.M.

CONFERENCE ADJOURNS

 
 
About Your Presenters
 

KEYNOTE: Shannon McCall RHIA, CCS, CCS-P, CPC, CEMC, CRC, CCDS, HCS-D | Director of HIM/Coding, HCPro
Shannon McCall is the director of HIM and coding for HCPro, an H3.Group division of Simplify Compliance, LLC, in Middleton, Massachusetts. She oversees all of the Certified Coder Boot Camp programs. McCall developed the Certified Coder Boot Camp®—Inpatient Version, the Evaluation and Management Boot Camp™, and most recently collaborated with the CDI team on the Risk Adjustment Documentation and Coding Boot Camp™. McCall works with hospitals, medical practices, and other healthcare providers on a wide range of coding-related custom education sessions.

 
 
 
Tracy Boldt RN, BSN, CCDS, CDIP | Manager, clinical documentation integrity, Essentia Health 
Boldt is system manager of ambulatory CDI at Baptist Health System in Louisville, Kentucky, where she is developing a program to serve the system's more than 300 locations and 1,100 providers. She provides education and training to support service line/quality measurements for risk-adjustment and documentation improvement. Her coding experience includes primary care, orthopedic, and cardiology. She presented for Healthcare Business Insights and at the 2018 ACDIS Symposium: Outpatient. She has also been a guest instructor for physician assistants at Sullivan University.
 
 

Adrienne Commeree CPC, CPMA, CCS, CEMC, CPIP | Regulatory Specialist, HCPro
Adrienne Commeree serves as a regulatory specialist teaching the Certified Coder Boot Camp® programs for HCPro, an H3.Group division of Simplify Compliance, LLC. She is an instructor with extensive knowledge of inpatient coding guidelines as well as E/M and auditing guidelines. She has many years of experience in the healthcare industry, including coding, auditing, training, and compliance expertise.

 
 
 

Malissa Powers BS, RHIT, CCS, CDIP, CICA | Coding Appeals Manager, Intersect Health Care/AppealMasters
Malissa Powers BS, RHIT, CCS, CDIP, CICA is the director of coding appeal services at Intersect Healthcare, Inc. She has experience both as an employee and as a coding consultant for large teaching/trauma facilities. She has also served as an HIM manager and has over 12 years of teaching experience in the HIM profession. She loves assisting others to help them discover their own passions within the HIM workforce. In Power's current role with Intersect Healthcare, she manages the coding appeal writing.

 
 
 

Nena Scott MSEd, RHIA, CCS, CCS-P, CCDS, AHIMA-approved ICD-10-CM/PCS trainer | Director of Coding Quality and Professional Development, TrustHCS / Trust Healthcare Consulting Services, LLC
Nina Scott is director of coding quality and professional development at TrustHCS. She is an accomplished trainer with over 24 years of experience in educating HIM professionals. As a member of the Mississippi Health Information Management Association, she was recognized with the Champion award in 2010, Educator award in 2009, and Distinguished Member award in 2007.

 
 
 

Catrena Smith CCS, CCS-P, CPCO, CPC, CIC, CPC-I, CRC, CHTS-PW | Audit & Education Manager, KIWI-TEK
Catrena Smith is the audit and education manager for KIWI-TEK and brings over 19 years' experience in the health information management industry. She currently manages all of KIWI-TEK's internal and external audit and education processes. She is frequently asked to speak at a variety of conferences and seminars annually, as well as presenting webinars on coding, billing, documentation improvement, and compliance. She is a former AAPC Local Chapter President and is an active FHIMA and AHIMA Volunteer.
Pricing
Registration Information
All-Access Pass October 7-9, 2019
Early Bird Price: $1,290* (Save $400)

Retail Price: $1,490 (Save $200)
Included in this program:
20+ hours of instructional sessions
Preconference
Ample networking opportunities
Continental breakfasts and networking lunches
Free 30-day SelectCoder subscription

SelectCoder is DecisionHealth's premier coding solution that simplifies the complexity of tracking disparate code sets, rules and regulations and streamlines them into a single, consistent online coding system. Search the most current CPT®, ICD-10-CM, HCPCS Level II and modifiers by key terms or abbreviations. SelectCoder training will be provided ahead of the symposium. Learn more
Preconference Only
Early Bird Price: $495* (Save $100)
Retail Price: $595
Main Conference Only
Early Bird Price: $995* (Save $100)

Retail Price: $1,095
For multiple attendee discounts, contact Megan Ireland 855-225-5341 x6025 or mireland@decisionhealth.com.
Questions? Call customer service at 855-225-5341 or email customer@decisionhealth.com
Cancellation/substitution policy. Click here to view our event registration policy.
Location Information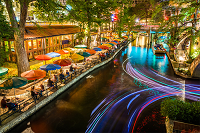 Location: San Antonio Marriott Rivercenter
101 Bowie Street
San Antonio, TX, 78205
Special Room Rate: $219/night 
Hotel cut-off date:Saturday, September 14, 2019
Call: 1-800-648-4462
San Antonio Marriott Rivercenter invites you to experience the Alamo City in the heart of the action. Make yourself comfortable in our intuitively designed rooms and suites, which offer pillowtop bedding and picturesque views of downtown San Antonio. Elsewhere at the hotel, you can savor a delectable meal at Sazo's, our signature restaurant, or stop by The Bar for a craft cocktail. Challenge yourself to a workout in the fitness center, or take a dip in the indoor/outdoor pool. With the River Walk, the Alamo and the San Antonio Zoo within easy reach, you'll have plenty to explore during your time here.
Amenities
Concierge Desk & Lounge Hours
Luxurious bedding – down comforters, custom duvets, cotton-rich linens
Room Service
Restaurants – Sazo's & The Bar
Starbucks® Coffeehouse
Local Area Transportation
Indoor & Outdoor Pools
24/7 Fitness Center
Reservations
For room reservations, book online or contact the hotel directly at 1-800-648-4462 and mention you are attending the Advanced Specialty Coding Symposium to take advantage of discounted rates. To receive the special $219/night discounted rate, reservations must be made by Saturday, September 14, 2019, or until the room block is full. Thereafter, reservations will be taken on a space and availability.
Simplify Compliance/DecisionHealth has no affiliation with any third-party companies or travel assistance providers. Hotel rooms should be booked directly with the hotel via the official hotel information listed on the website and registration brochure.