2020 Revenue Integrity Symposium
---
October 6-7, 2020 | Westminster, CO
The Revenue Integrity Symposium is the can't-miss event for revenue integrity, revenue cycle, and Medicare compliance education and high-level networking for acute and long-term care professionals. Learn from trusted experts with cutting-edge regulatory insight that will arm you with the tools you need to take 2021 by storm. By popular demand, this year's event kicks off with a motivational keynote session and introduces a track focused on professional development to help you navigate your career and ensure your team is positioned for success.
---

Thank you for your interest in the Revenue Integrity Symposium. Please continue to visit us for updates. We will be updating this page frequently as details are finalized.
Please note that the program materials will be available via download and the conference app only. A download link will be provided prior to the event, but a printed book of the presentations will not be available on-site.
Pre-Conference / Post-Conferences
Medicare Boot Camp®—Utilization Review Version
Medicare Boot Camp®—Provider-Based Departments Version
Medicare Boot Camp®—Denials and Appeals Version
---
An intensive two-day course focusing on the Medicare regulatory requirements for patient status and the role of the utilization review (UR) committee.
Managing patient status plays a critical role in proper compliance, correct reimbursement, and stabilizing inpatient payments for the hospital. In 2020, CMS made significant changes to the inpatient-only list and continues to change its strategies for auditing patient status. Don't become a target or leave money on the table—ensure the UR committee is ready to implement and leverage the regulatory requirements.
Medicare Boot Camp®—Utilization Review Version also answers all your questions about navigating the CMS website and finding Medicare requirements. You will be able to find answers to your questions long after the Boot Camp is over.
You will leave this program knowing:
How to apply the 2-midnight benchmark and 2-midnight presumptions
Implement changes to the inpatient-only list for 2020
The differences between post-discharge versus concurrent patient status reviews
When self-denial is appropriate to take advantage of Part B payment for an inpatient case
How NCDs, LCDs, and coverage with evidence development (CED) affect coverage of cases that meet the 2-midnight benchmark
The observation coverage rules and how they interact with the 2-midnight benchmark
When ABNs and HINNs should be used for stays that don't meet medical necessity requirements

Who should attend?
Utilization review coordinators
Utilization management managers and directors
Utilization review committee members
UR physician advisors
Case managers
Care coordinators
Revenue cycle staff
Nurse managers
Compliance officers and auditors
CFOs, CNOs, and VPs
Fiscal intermediary personnel
Healthcare lawyers and consultants
Click here for full event details
---
Reimbursement for provider-based departments (PBD) and clinics has been declining, with off-campus payment changes and significant encounter-based packaging initiatives by CMS. Hospitals need to understand both the outpatient prospective payment system as well as the new PBD site-specific physician fee schedule payment to effectively assess the impact of these initiatives on PBDs and patients. With more hospitals moving services off-campus due to the value of hospital space or for patient convenience, reimbursement and compliance now become even more complex.
The Medicare Boot Camp—Provider-Based Departments Version provides education on attestations, on- and off-campus determinations, enrollment, billing, and reimbursement. This Boot Camp will provide brand new insight for understanding hospital outpatient department billing and reimbursement in an ever-changing regulatory landscape.
This boot camp will break down billing, coding, compliance, coverage, qualification, and other issues. It will help attendees gauge the financial impact of changes to off-campus PBDs, understand the effects of the recent increased packaging of services for all PBDs, and know how to handle other recent changes, such as modifiers -PO and -PN and modifier JG.
You will leave this program knowing how to:
Ensure PBDs meet regulatory requirements
Properly apply Modifiers -PO, -PN, -25, and -JG
Apply supervision requirements to ensure compliant, covered hospital outpatient services
Find and apply National and Local Coverage Determinations 
Research Medicare coverage, coding, and billing issues 
Accurately calculate reimbursement for on- and off-campus PBDs under both the OPPS and PBD site-specific MPFS rate
Determine when ancillary services such as drugs and testing are paid separately

Who should attend?
Compliance directors, managers, and staff 
Finance staff 
Billers 
Auditors 
CFOs, finance directors 
Revenue cycle directors and professionals 
Revenue integrity professionals 
HIM directors and managers 
Coders 
Physician practice administrators 

Click here for full event details
---
Get expert guidance on preventing denials and focusing appeals efforts for success. The evolution of reimbursement models and uncertainty regarding healthcare laws mean that to keep the doors open, organizations can't afford write off appealable denials. Organizations need sound, practical information on overturning denials. Medicare Boot Camp® — Denials and Appeals Version is your key to proven strategies for success and will answer all of your questions on denials management and appeals processes.
This Boot Camp teaches you about the latest claim audit and appeal issues based on official guidance. You'll leave the class armed with a thorough understanding of the audit and appeal process and ready to put your new knowledge into action.
You will leave this program knowing how to:
Prepare for CMS audits
Navigate the appeals process up to the Administrative Law Judge level
Research denials and upcoming audit focus areas
Implement policies to support efficient appeals and identify appropriate denials to appeal

Who should attend?
Revenue cycle directors and managers
Revenue integrity directors, managers, and staff
HIM directors, managers, and staff
CDI directors, managers, and specialists
Compliance directors, officers, and auditors
Business office managers
Case management directors and managers
Case managers
Utilizations review staff
Utilization management staff
Physician advisors
Audit directors and coordinators
Auditors
Appeals coordinators
Patient financial services directors
Click here for full event details
---
See the HCPro difference for yourself!
Focus on the actual rules: Learn how to find and apply CMS rules and guidelines to ensure hospital services furnished to Medicare beneficiaries are billed accurately and appropriately.
Tools and skills to navigate Medicare rules: Our instructors provide valuable tools and resources that will help you prioritize and research Medicare questions long after the Boot Camp ends.
Hands-on learning: Attendees work a set of exercises/case studies after each module to ensure they understand the concepts and know how to apply them to real-world situations.
Small class size: A low participant-to-teacher ratio is guaranteed.
Highly rated, well-established program: Participants consistently give the course an overall rating of 4.75 or higher (on a 5.0 scale). We currently conduct more than 30 Medicare Boot Camp courses each year.
For more detailed information about Medicare Boot Camps, contact customer service at 800-650-6787 or email customer@simplifycompliance.com.
Agenda
---
The 2020 Revenue Integrity Symposium agenda is still being finalized, but please click here to view the 2019 Revenue Integrity Symposium agenda to get and idea of what is to come!
Call for Speakers
---
Join us on the podium at the 2020 Revenue Integrity Symposium!
---
NAHRI is currently seeking speakers to present at the 2020 Revenue Integrity Symposium (RIS), to be held October 6–7, 2020, at The Westin Westminster in Westminster (Denver), Colorado.
Is that special person you or a colleague?
We seek speakers to present on all aspects of revenue integrity, Medicare compliance, and the revenue cycle in acute care and long-term care settings, including but not limited to the following:
Highlights of IPPS and OPPS annual updates
Enhancing a revenue integrity program using analytics, metrics, and key performance indicators
Maintaining an up-to-date and compliant charge description master and setting policies for charging for procedures and supplies
Strategies for designing a revenue integrity program, developing workflows, and setting and meeting revenue integrity goals
Complying with price transparency requirements and creating appropriate price strategies
Developing strategies for accurately documenting, coding, and billing patient encounters and stays
Best practices for reducing payer denials using targeted data analytics
Current payer audit targets and strategies to protect revenue
Properly addressing NCCI edits and MUEs
Understanding the impact of patient status and navigating payer regulations
Impact of value-based reimbursement models on revenue
The impact of the new PDPM case-mix payment model on billing and reimbursement
Tips for successfully navigating various consolidated billing categories
Ensuring billing office compliance when dealing with Medicare Advantage, Medicare as secondary payer, and benefits verification
The link between ICD-10 coding and the MDS
Note: If you don't see your hot topic listed here, please write and let us know what expertise you can bring to the podium! Original ideas not included above are welcomed. Presentations may be geared toward beginner, intermediate, or advanced levels.
Sessions at the RIS are approximately one hour in total length; the presentation portion is 45 minutes followed by 15 minutes of Q&A. Applicants should be prepared to present for the entire 45 minutes.
Submission form and deadline
Per the instructions at the top of this page, create or sign into an existing account, complete the form, and submit it to us no later than end of day Monday, February 3, 2020. Please be sure to complete all the fields. Speakers are welcome to submit more than one session but must fill out a separate form for each submission. If you are applying to speak with a co-speaker, your co-speaker(s) must also complete their portion of the form within the same submission. For this reason we strongly recommend that you review the full application in advance so that you can gather their details before completing the form.
NAHRI will waive admission fees to the 2020 RIS for all selected speakers and co-speakers. Selected presenters will be expected to submit PowerPoint materials at a later date.
We look forward to hearing from you! If you'd like more information or wish to discuss a speaking topic, please email Jaclyn Fitzgerald at jfitzgerald@hcpro.com.
Sponsors
For sponsorship and exhibiting opportunities, please contact Carrie Dry at cdry@hcpro.com
, or call 630-235-2745.
Location/Details
---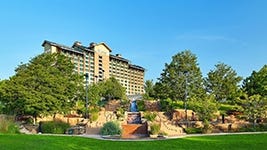 WHERE: The Westin Westminster Hotel
10600 Westminster Blvd
Westminster, CO  80020-4102
Room rate: $219/night
Hotel cut-off date: Saturday, September 12, 2020
Toll-Free Reservation Center: 1-800-627-8448 and referencing the
Revenue Integrity Symposium
Hotel website: here
---

Thank you for your interest in the Revenue Integrity Symposium. Please continue to visit us for updates. We will be updating this page frequently as details are finalized.
Please note that the program materials will be available via download and the conference app only. A download link will be provided prior to the event, but a printed book of the presentations will not be available on-site.