Ultimate Training Series Presents: Patient Driven Groupings Model (PDGM) Prep Class
Course Overview
When it takes effect next year, the Patient-Driven Groupings Model (PDGM) from the Centers for Medicare & Medicaid Services (CMS) will have a major impact on the operations and billing processes of home health agencies. It's critical that providers prepare for 2020. Get a comprehensive overview of the latest changes with this intensive two-day course presented by expert J'non Griffin. You'll learn not only the difference between payment models, but also how they relate to coding, billing and OASIS.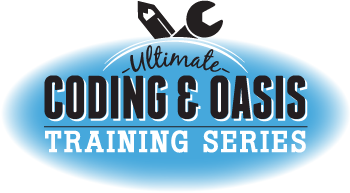 Also see our DecisionHealth Ultimate Coding & OASIS Training Series as it is a similar class through our sister company, and we have training every spring and fall.
For more detailed information about this boot camp, contact customer service at 800-650-6787 or email customer@simplifycompliance.com.
Patient Driven Groupings Model (PDGM) Prep Class
Course Locations & Dates
Below is the current course schedule for upcoming classes of this PDGM Boot Camp. We update this schedule on a regular basis. 
Registrations are processed in the order received. Class size is limited, and classes often sell out. We recommend against making travel arrangements until after we have confirmed your course registration.
To register for a class, click the "Register" button. If you would like to register multiple attendees, fill in the "Additional Attendees" box.
For larger groups, contact Customer Service at (800) 650-6787 to inquire about group rates. 
To view our cancellation policy, click here.



February 2020



Franklin, TN

 

February 10 – 11, 2020
8:30AM – 5:00PM (Day 1)
8:30AM – 1:00PM (Day 2)

Franklin Marriott Cool Springs
700 Cool Springs Blvd
Franklin, TN 37067
1-888-403-6772
Hotel website


Room Rate: $179/night
Room Rate Cut-Off (extended!): January 27, 2020
Course Outline/Agenda
Day 1
8:00 a.m. – 9:00 a.m.
Registration/Continental Breakfast
9:00 a.m. – 10:00 a.m.
PPS vs PDGM
Discussion of the major differences between the 2 payment models and how to make sure you are prepared for the shift.
10:10 a.m. – 10:15 a.m.
Networking Break
10:15 a.m. – 11:45 a.m.
Operations and Finances
Discover ways to align agency operations under the new payment model. We will discuss proper revenue cycle management and how to get paid in a timely manner, and key performance indicators to monitor. We will discuss billing for the claim in a 2nd 30 day payment period when the patient status may have changed.
11:45 a.m. – 12:15 p.m.
Lunch
12:15 p.m. – 1:45 p.m.
Clinical Operations under PDGM
Discussion of ways to ensure clinical operations are efficient and at the same time, outcomes do not suffer. Discover how to share resources and ideas to cover care without incurring costs.
1:45 p.m. – 2:45 p.m.
OASIS under PDGM
Look at OASIS items that contribute to the functional payment score, and discover how slight variations will make a difference.
2:45 p.m. – 3:00 p.m.
Networking Break
3:00 p.m. – 4:00 p.m.
Coding under PDGM
Discuss the principle groupings, the type of patients are included in these groupings, and the cost of taking care of these patients vs the reimbursement. We will discuss supply utilization, along with the variations that go along with each clinical grouping. We will also discuss comorbidity subgroups and how certain items will trigger an adjustment in your HHRG, and also may affect your LUPA thresholds. We will discuss the importance of having the documentation to validate that.
4:00 p.m. – 5:00 p.m.
Defensible Documentation under PDGM
The expectation is that ADRs will increase in light of the new payment model. Discuss how you should have defensible documentation to justify not only your utilization, but also your selection of diagnosis.
Day 2
8:00 a.m. – 8:30 a.m.
Continental Breakfast
8:30 a.m. – 10:30 a.m.
Coding and OASIS Deep Dive under PDGM
We will work cases that will show how  cases in clinical groups may score out under the PDGM model. This will be a great opportunity for coding and QA staff to work through cases to see the importance of accurate assessment and documentation to maximize your reimbursement under PDGM.
10:30 a.m. – 11:00 a.m.
Billing and Coding Overview
How will you handle the increased workload…we will discuss options your agency may consider including cross training, hiring additional staff, or outsourcing.
11:00 a.m.
Adjourn
Patient Driven Groupings Model (PDGM) Prep Class
Your Presenters

J'non Griffin
RN MHA, WCC, HCS-D, HCS-H, COS-C
AHIMA Approved ICD-10-CM Trainer/Ambassador, President of Home Health Solutions, LLC
Griffin offers home health consulting on many topics including quality assurance and performance improvement, program development, coding and OASIS review, staff education and plan of care compilation. Griffin has experience as a field nurse, director and executive with home health and hospice agencies.


Patient Driven Groupings Model (PDGM) Prep Class
Continuing Education
Board of Medical Specialty Coding & Compliance (BMSC)
The Ultimate Training Series Presents: Patient Driven Groupings Model (PDGM) Prep Class on December 9-10, 2019 is approved for 5 HCS-D, 3 HCS-O and 2 HCS-C CEUs.