Advisory Services
Advisory Services

At HCPro, we help your organization make faster, better decisions by connecting your challenges and questions to an unrivaled network of experts, resources, and solutions. With a shared-cost membership, you can expect world-class thinking and advice without having to worry about the meter running.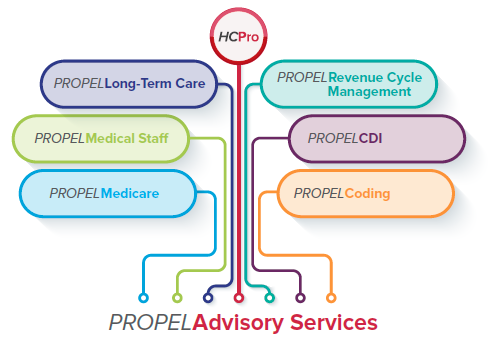 An all-encompassing offering, PROPELAdvisory Services is available in six domains, with more on the way. Our growing family includes memberships in Medicare, long-term care, clinical documentation improvement, medical staff, coding, and revenue cycle management.
PROPEL compliance, efficiency, and innovation in your field
All PROPELAdvisory Services domains are specially tailored to market and member needs, yet unified in their dedication to providing:
Premier Resources: Gain unprecedented access to HCPro's ever-growing library of best-in-class training solutions and celebrated expertise
Ongoing Personalization: Share your unique and evolving training needs with HCPro's dedicated PROPEL team, who will custom develop, curate, and package the most targeted solutions based on continuing conversations with you
Engaged Learning: Join a spirited community of recognized experts and like-minded peers who are eager to problem solve and put best practices into action
Sample member benefits include:
Custom monthly reporting
On-call hours with regulatory experts
Access to checklists, tools, webinars, and eLearning modules
Specific guidance sourced to government-issued guidelines
Faculty-specific reports for call attendance and engagement
Organizationwide distribution of calls, activity reports, and answers to questions in live and on-demand formats
Focused and actionable updates regarding industry changes
With this winning combination of collaboration and expert strategy, PROPELAdvisory Services empowers members to drive compliance in their practices, efficiency in their workflows, and innovation in their industry.
For more information, please contact us at: 615-724-7213 | advisoryservices@hcpro.com