Home Health Coding, OASIS, and Quality Boot Camp
Course Overview
Earn ANCC credits while empowering yourself to tackle the most pressing challenges your agency faces.
Join coding and OASIS experts for the Home Health Coding, OASIS, and Quality Boot Camp as they guide participants through lingering ICD-10 issues, OASIS documentation, value-based purchasing, documentation auditing, and star ratings.
Instructors will provide guidance on proper documentation for quality measures to ensure your agency provides quality care—and shows it. They will also review the top coding problems home health agencies struggle with, identify what case-mix changes mean for home health, and teach methods to evaluate your staff documentation and coding proficiency so your agency can strive for continued improvement upon returning from the boot camp. Tools, examples, and answers to your questions will be provided in this invaluable live event.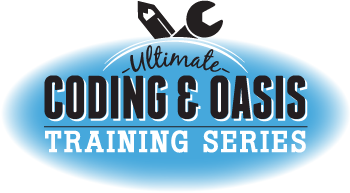 Also see our DecisionHealth Ultimate Coding & OASIS Training Series as it is a similar class through our sister company, and we have training every spring and fall.
For more detailed information about this boot camp, contact customer service at 800-650-6787 or email customer@simplifycompliance.com.
Home Health Coding, OASIS, and Quality Boot Camp
Course Locations & Dates
Bring our industry-leading faculty on-site to train your staff!
Our account managers and regulatory experts can help you find the training solution best for your staff. Call us at 877/233-8734 for more information.
Home Health Coding, OASIS, and Quality Boot Camp
Course Outline - Full Agenda
Day 1: Correct Your ICD-10 Implementation and Documentation

Session 1: Correcting Common Problems With ICD-10

Top 10 diagnoses:

CHF
Late effects of CVA
Dementia
Diabetes
COPD
Coronary artery disease (CAD)
Aftercare orthopedic
Neoplasms
Lower extremity ulcers
Traumatic wounds

What is needed to code to the highest level of specificity for the top 10 diagnoses?

Severity, specific location, laterality
What are the documentation requirements for the top 10 diagnoses?
Case study review for correct coding and maximum reimbursement

Session 2: How Case Mix Will Affect Your Agency

Case-mix comparisons

Updated ICD-10 diagnosis grouping list for CY 2016
What is included and NOT included in case mix?

Manifestation & etiology table

Understanding sequencing requirements

Initial versus subsequent: 7th character "A" versus "D"

NEW guidance from CMS: Understanding when the initial episode is appropriate for homecare

Non-routine medical supplies (NRS)

Session 3: Good Documentation and Bad Documentation: What Does It Look Like?

Unspecified documentation = unspecified coding
What is your compliance risk?
Key areas of education for clinicians
Strategies for accurate documentation: Right and wrong documentation

Session 4: Evaluating Your Staff's ICD-10 Proficiency

Productivity and metrics
Evaluating proficiency

Review two approaches to coder quality review

Understanding coder needs
Referrals

What information needs to be included for accurate coding?

Queries to clinicians

Day 2: OASIS and Quality Initiatives

Session 1: How OASIS Data Impacts Quality Measures

Home Health Compare and star rating: How does your agency measure up?
Improve OASIS now: Prepare for value-based purchasing (VBP)

Pilot VBP began in nine states January 1, 2016

OASIS M questions: Specific M questions that impact star rating & VBP

Tips for accurate completion

Emergent care (M2300s): How discharge and transfer OASIS M questions impact quality measures

What items should be reviewed by QI?

Session 2: Understanding Quality Improvement Review for Documentation, Compliance, and Reimbursement

OASIS accuracy & integrity

Review requirements under Condition of Participation 484.20: Reporting OASIS information
Audits and quality control checks

Review requirements and strategies for clinical record audits
Review requirements and strategies for data entry audits
Review requirements and strategies for clinical audit visits

Quality measures

Getting the most out of your quality reports: Understanding the data metrics
Tips for accurately reporting M questions that affect these measures
What are the five quality reports needed for day-to-day operations?

Tracer methodology

How to approach a focused review of problem areas

Survey activities

Understanding top deficiencies in homecare can lead to improvements in documentation
Course Outline-Agenda is subject to change. 
Home Health Coding, OASIS, and Quality Boot Camp
Learning Objectives
The Home Health Coding, OASIS, and Quality Boot Camp offers the help you need to:
Ensure optimal reimbursement under ICD-10
Identify how ICD-10 could affect your agency's case mix
Evaluate your staff's ICD-10 proficiency to ensure optimal reimbursement
Identify OASIS documentation that aligns with your mission to become a five-star agency
Ensure proper M item responses for improved outcomes
Audit and improve documentation
Identify methods to improve quality ratings and prepare for value-based purchasing
Home Health Coding, OASIS, and Quality Boot Camp
Continuing Education
Continuing Education Credits Available
American Nurses Credentialing Center (ANCC)   
HCPro is accredited as a provider of continuing nursing education by the American Nurses Credentialing Center's Commission on Accreditation.
This educational activity for 11 nursing contact hours is provided by HCPro.
California Board of Registered Nursing   
HCPro is approved by the California Board of Registered Nursing to provide 13.2 nursing contact hours. California BRN Provider #CEP 14494.
Home Health Coding, OASIS, and Quality Boot Camp
Questions/Answers
Where is the course offered? 
Open registration courses are offered at various locations around the country, typically at mid-priced business hotels, such as the Hyatt Place or Hilton Garden Inn. For a current schedule of upcoming open registration courses, click on "Locations/Dates" above. 

Does HCPro offer this course on-site? 
In addition to our open registration courses, we also offer the Home Health Coding, OASIS, and Quality Boot Camp as an on-site course (with a substantial discount) for organizations that have a number of employees who need training. Call us at 877/233-8734 for more information!
What if I need to cancel or transfer my registration? 
Cancellation Policy
Please click here to view our cancellation policy.
Who should attend this course? 
• Administrators 
• Staff educators 
• Directors 
• Owners 
• Nurse Managers 
• Coders 
• Clinicians 
How is the course taught? 
The course is taught using a combination of lecture, class discussion, and hands-on exercises/case studies. 

What do I need to bring to class? 
Bringing you ICD-10 manual is recommended. When you arrive at class, you will receive an extensive notebook of course materials. These manuals will contain all the materials needed for the training. Please ensure room in your luggage for the return trip. 

Does HCPro ever share contact information (e.g., name, address, phone number, email address, etc.) with other companies? 
Historically, we have not shared contact information with anyone outside of our company. However, it is possible that at some point we might share contact information with other companies that offer products and services that we think would be of interest to our customers. If you would like us to keep your contact information confidential, please let us know so that we can flag your information in our customer database as "Do Not Share." 

How do I get more information? 
Contact customer service at 800-650-6787 or via email at customer@simplifycompliance.com.