ACDIS PRO
IT'S NEW! IT'S INTERACTIVE! IT'S CUSTOMIZABLE!
IT'S THE ALL NEW ACDIS PRO!
Protect your agency from mistakes that could lead to claim denials and revenue loss with ACDIS PRO – the comprehensive online tool for all of your CDI needs.
Easily access all the query, coding and documentation resources you love and need every day – anywhere, any time!
This new, fully customizable, easy to navigate online portal can be accessed on any device – pull it up on your phone in a meeting to make sure you have the right code, access it on the go while talking to a physician, or from your office! With the ability to add your own personal notes directly into conditions for easy reference – this all-encompassing online tool will become your favorite reference.
Want to know more? View a brief 6 minute demo now!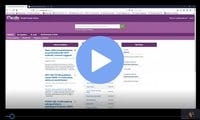 Just like the printed ACDIS Pocket Guide, this online portal provides all of the detail, explanation, and content you have come to trust and expect from the ACDIS team, but is updated in real-time to keep you at the forefront of the CDI industry!
With this new easy-to-use online portal, you'll have the ability to:
Find it faster & Increase productivity! Search by clinical condition, ICD-10 code or MDC category to locate the guidance you need in less than a second. Our smart search allows you to search clinical conditions by their acronyms and synonyms!
Ensure accuracy and Minimize denial risk! Updated in real-time, get the latest expert and official guidance you need to ensure accuracy and compliance. Once you look up your clinical condition, you'll receive all the guidance related to the condition – including a detailed clinical definition, diagnostic criteria and treatment protocols, ICD-10-CM chapter-specific documentation requirements, CDI critical thinking tips and more – all on one scrollable page so you can quickly jump to the section you need!
Make it your own! Customize the application to your specific needs with personalized notes, bookmarks, links between conditions, and shortcuts to ensure consistency and maximize efficiency. Bonus: If you manage a team of CDI specialists, create notes that alert your entire team to facility policies for certain clinical conditions.
Use it on any device! Our web-responsive design allows the tool to be used on your phone, tablet, PC or laptop.

You also have access to the ACDIS Pocket Guide content you've come to depend on, including: 
Access to 70+ clinical conditions most searched by CDI specialists
100+ CDI critical thinking and provider tips that guide you and raise red flags and identify documentation risk points, at your fingertips.
150+ clinical definitions, diagnostic criteria, treatment protocols and coding considerations you'll need to reference as you're making critical decisions.
Icons on those conditions with the highest level of severity and hospital resource consumption
News, updates and resources so that you can stay abreast of the most recent happenings affecting CDI professionals.

NOTE: If you're interested in purchasing the online version for multiple users within your organization and/or would like to see a demo of the product, please contact Sales at 615-724-7200 or email sales@hcpro.com.